UN Urges African Leaders To Resolve Crisis In South Sudan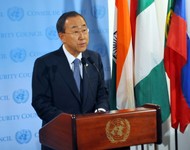 By Edwin Nwachukwu
African leaders have been urged to bolster military support for the UN Mission in South Sudan (UNMISS) and give the country the political backing to resolve its crisis.
The UN Chief, Ban Ki-moon, made the call at a news conference at the UN Headquarters in New York on Monday, stressing that a political solution to the crisis in South Sudan was necessary.
He said the world body remained concerned about the situation in the country, where fighting broke out between government and rebel forces.
The situation is reported to be tense as government forces prepare to retake the town of Bor in Jonglei State which was seized by rebellious troops last week.
"The situation is of mounting urgency. I am especially worried by reports of ethnically targeted killings.
"Tens of thousands of people are displaced, including some 45,000 seeking protection at the bases of our Mission, the UNMISS.
"I am determined to ensure that UNMISS has the means to carry out its central task of protecting civilians,'' Ban said.
He added that he would be sending a letter to the UN Security Council on his recommendations to boost the protection capacity of UNMISS with additional troops, police and logistical assets.
"We are already approaching countries to help meet the new requirements. We are also looking at other peacekeeping missions, while taking care not to reduce their capacity to respond to threats where they operate,'' Ban stressed.
According to him, UNMISS is protecting civilians at its bases, supporting humanitarian deliveries, monitoring the human rights situation and investigating reports of abuses.
"We have lost two peacekeepers in the past week and one was wounded. I commend our brave peacekeepers, as well as the mission's staff and leaders.
"Let me be absolutely clear. The world is watching all sides in South Sudan. Attacks on civilians and the UN peacekeepers deployed to protect them must cease immediately.
"The UN will investigate reports of grave human rights violations and crimes against humanity.
"Those responsible at the senior level will be held personally accountable and face the consequences, even if they claim they had no knowledge of the attacks,'' he said.
The UN scribe also said that he had consistently called on President Salva Kiir and opposition political leaders to come to the table and find a political way out of the crisis.
On his visit to Tacloban, Ban said the UN was doing everything possible to support the relief effort of the Philippines.
He, however, stressed that more than four million people were getting food and hundreds of thousands were receiving life-saving supplies.
Ban also added that "the UN has less than a third of the funding it needs for its 791 million dollars appeal which it
launched" and urged countries to contribute urgently.