By Ndiameeh Babangida Babreek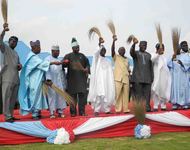 Nigeria and Nigerians are in trouble. Seriously we are in for a row deal. The desire by this APC to grasp power by any and all means possible is frightening!
Just read and scrutinise the statements being by the APC chieftains of Bisi Akande, Muhammadu Buhari, Liar Mohammed and Bola Tinubu to know that their violence actions post 2015 elections which they will surely lose anyway is predictable. They are ably supported by Junaid Mohammed, Lawal Kaita and Ango Abdullahi.
The whole truth is that it is becoming glaring that all the founders of APC mentioned above and the defected former PDP governors are real enemies of Nigeria.
Their antecedents speak volumes of that.
Take Bola Tinubu for example, after spending five months in American hospital with the stolen money from Lagos State, the only thank you Lagosians he brought from America is "I, Asiwaju Bola Tinubu is against National Conference."
Bola Tinubu is the self acclaimed national leader of this APC. His APC followed suit. We don't support national conference.
It is well known from time immemorial that it is a cardinal principle of life that people dialogue with one another for better understanding. Even in marriage, the husband and wife are encouraged to dialogue to make peace in the marriage home.
Today, all the ethnic groups in Nigeria today complain of marginalisation.
Every ethnic group complains of being marginalised. The national conference is a golden opportunity for all ethnic groups to present their case. That is why representation must be on ethnic group bases.
In well organised democracies like America, UK, India and even Ghana, the opposition party is a patriotic vehicle of change. Anything that affects the sovereign of the state is totally condemned by the opposition party and naturally the party in power.
We all saw that in America during the 9/11 2001 terrorist attack.
We equally witnessed that in the UK during the July 7th 2005 terrorist attack on London. The conservatives who were the opposition party in the UK were more vocal in condemning the terror attack on their land.
Even in Kenya here in Africa, the opposition is always united with the government to condemn any terrorist attack by Al-shabaab on Kenyan soil.
Here in Nigeria, this APC's opposition is a different kettle of fish.
Fortunately for them, they have willing tools in the Daily Trust Newspaper and Alhaji Liar Mohammed.
The APC leaders are seeking power to enrich themselves and for their self aggrandisement. They do not have the love of Nigeria or Nigerians at heart at all.
Any patriotic and reasonable Nigerian will call for complete and total state of emergency in Borno, Yobe and Adamawa State. If possible application of martial laws in those three states and Kano State.
Just within the week, the International Human Right Commission announced that about 1,200 people were killed by Boko Haram in those three states this year.
The irony of all these is that whenever the Boko Haram terrorists are arrested even when committing their terrorists attacks, the Daily Trust Newspaper will carry false and irritating headlines expressing the innocence of the terrorists. Yet it is the same Daily Trust that will flash 'Breaking News' Boko Haram fighters attack Air Force Base. Boko Haram fighters killed soldiers.
It will be wise for the security agents to cast their security search on workers in this Daily Trust Newspapers.
Back to the case of this APC, which I will rather call 'Anti People Cabal' (APC).
What type of opposition will support insurgence against the state? Only APC, What type of opposition is against National Dialogue? Only APC.
What type of opposition will visit and lure all known criminals to its fold? Only APC. I tell you, If people like Lawrence Anini, Mohammed Marwa maitatsine were alive, this APC gang will visit them to lure them to join APC. (Anti People Cabal)
It is obvious that some of the major sponsors of Boko Haram are members of this APC.
The gist of this my article is that the APC gangsters are stomach politicians who are out to grab power by any means possible. They are ready to shed the blood of innocence Nigerians to grasp power in 2015.
We will not allow that to happen.
The children of Liar Mohammed, Bola Tinubu, Bisi AKande will serve as electoral officers and polling clerks in Borno State in 2015 for the election to hold. Anything short of that, "we no gree" Election will not hold in Yobe, Borno and Adamawa State.
Finally this APC, (Anti People Cabal) opposition is archaic, anti state, retrogressive, mundane and out of fashion. These APC leaders if they are one at all hate Nigeria and Nigerians with a passion. This is my opinion.
____________________________________________________________________
Written By Ndiameeh Babangida Babreek