Just In: APC Endorses Buhari For Second Term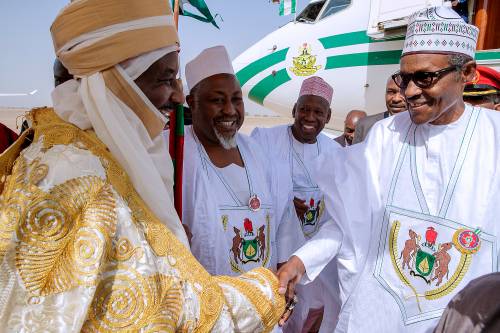 The Kano State chapter of the governing All Progressives Congress (APC) on Thursday adopted President Muhammadu Buhari as its candidate for the 2019 general elections.
The leadership of the party and other prominent members also expressed their commitment and support to Governor Abdullahi Ganduje as their sole candidate for 2019.
According to Mr. Buhari's spokesperson, Garba Shehu, in a statement, the president did not say he accepted, neither did he decline, even after the party leaders promised to procure the nomination forms for him and threatened to sue if he declined the said endorsement.
"President Buhari merely beamed with smiles and went on to underscore the need for unity in the party and among the diverse peoples of Nigeria," the statement said.
The APC leaders meeting, held on the margins of the president's state visit to Kano, was attended by Governor Ganduje, his deputy, Hafizu Abubakar, the state Chairman and the members of the state executive committee and members of the national executive committee of the party from Kano State.
Also in attendance were two of the state's senators; members of the House of Representatives from the state; the Speaker and 34 of the 40 members of the Kano State House of Assembly and the 44 party Chairmen, their deputies and the Local Government Area secretaries of the APC.
Others are Governor Muhammed Abubakar of Jigawa and other leaders of the party in the state.
According to the statement, the state chairman of the APC, Inuwa Abbas, hinged the party's endorsement of the president on his achievements in the last two years especially in the fields of security, the war against corruption and the restructuring of the economy.
"Security is important for everyone, not just for Borno, Yobe and Adamawa states.
"It even more so for us as a commercial and industrial state. We are convinced that you are best for these times when the country has begun to muster energy and resources to develop agriculture, infrastructure and empower the younger citizens," Mr. Abbas said.
Speaking in a humorous note, Governor Ganduje said the party was prepared to drag the president to court to force his acceptance of the second term ticket.
In his response, Mr. Buhari said he understood the clamour by the ordinary people on the streets who raised four fingers on each hand, "meaning four-plus-four" years.
He, however, stressed the need to sanitise party politics by ridding it of vote buying and violence.
"What I saw in the elections in Kogi, Bayelsa and Rivers, the use of money and those headless bodies really upset me. I don't wish to see that anywhere. I would not have won if money and killing was the modus of operation. That is my view of politics," the president said.