"By The Time I Finish Testifying There Will Be No Nigeria" – Nnamdi Kanu Tells Judge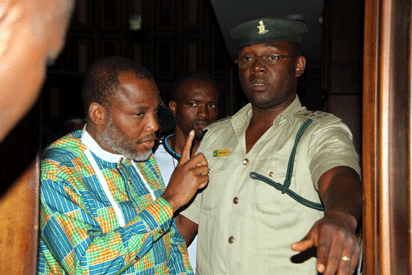 Trial Justice Binta Nyako of the Federal High Court in Abuja has granted the Federal Government the nod to shield identities of witnesses billed to testify against the detained leader of the Indigenous People of Biafra, IPOB, Mr. Nnamdi Kanu.
In a ruling, yesterday, Justice Nyako held that names of all the prosecution witnesses, who are mostly security operatives, would not be disclosed in any record of the court proceedings. She said the witnesses would be allowed to testify against the defendants behind a screen that would be provided by the court.
Justice Nyako, however, stressed that both the defendants and their counsel would be allowed to see the witnesses who she said would enter and exit the courtroom through a special door.
Besides, the trial judge directed the prosecution and defence lawyers to appear tomorrow to test-run the trial procedure.
Kanu immediately rejected the court ruling, insisting that it was against the tenets of justice and fair-hearing. "I won't stand this travesty of justice. Buhari spoke in public, he accused me in public. I must also be allowed to stand my trial in public," Kanu bellowed from the dock.
"Please sit down and allow me to handle this issue. I am your counsel. You briefed me to represent you, so please, allow me to handle it. I did not travel all the way from Aba for you to take over the brief, unless you want to debrief me", Kanu's lead counsel, Mr. Chuks Mouma, SAN, pleaded with him.