Opinion: It Is Glaring That Bishop Matthew Kukah Is Supporting Corruption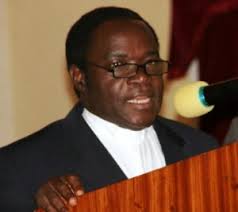 By Kelvin Adegbenga
When I read in the news of Bishop Matthew Kukah telling President Muhammadu Buhari to take responsibility, I asked my colleagues covering the Catholic Bishops Conference of Nigerian (CBCN) in Akure, what kind of food did Matthew Kukah took before addressing them.
Matthew Kukah reminded President Buhari that "Nigerians knew there was problem and voted him to power to solve them and not to be agonising, crying and blaming the previous governments", but he forgot to address the massive corruption left behind by the Goodluck Jonathan administration which I believe Matthew Kukah benefited immensely from. This is story for another day to discuss.
I agreed with President Buhari's statement that he inherited nothing from the Peoples' Democratic Party (PDP) Government who were in power before him because the all the resources and wealth of the country belong to the people and not the Peoples' Democratic Party (PDP)
It may interest Matthew Kukah to know ?that President Buhari's government is already consulting experts that would help in articulating ?appropriate solutions to the crisis, and reduce the hardship of the people through the Retreat the Government put together yesterday at the Banquet Hall, State House Abuja.
I need to remind Matthew Kukah that his statement, which I quote here "I think the business of government is not our business; our business is: if the previous government did bad, that is why we voted a new government. It is really about taking responsibility. No matter how much you praise or abuse Jonathan, he is not the President of Nigeria. I think people must understand you take power to solve problems, not to agonize", is baseless.
Matthew Kukah as a Bishop should consider this; If he is voted by majority of Bishops that he should be transferred to a Parish so as to turn around the Parish for good; combined with his own promises to improve the Parish despite the work done by the former Father in that Parish.
On getting to the Parish, he met empty purse despite huge crowd of worshippers accompanied offering and tithes coming in on daily basis including donations from those God has given testimonies, how will Matthew Kukah feel? Will he keep quiet when he can easily recover the offering, tithes and other incomes that will help him keep to his promises?
Matthew Kukah agreed Jonathan created problems but he kept quiet because he was benefiting from the corruption galore.
Other statement that even proved that Matthew Kukah might be found wanting in all the corruption cases is his statement that "those who deserve to go to prison should go to prison, but sending people to prison will only be useful if it puts bread on the table of people."
The preceding remarks do not take away Bishop Kukah's outspokenness and brand of political activism; but in whose ultimate interest? I asked this question because Kukah has been heard speaking in favour of church leaders distancing themselves from the corridors of power, believing that "we cannot speak the truth to power" or "hear the wails of the poor and the truth" as long as we have closeness with such powers. But as we have noted earlier, the same Kukah who makes and believes this statement does not seem disposed or prepared to walk his talk – to live out his talk in practice!
Thus his kind of politics is principally elitist and, therefore, out to serve elitist interests. Besides, its practical expression in a manner that exhibits double standard, double-talk and self-interest together not only portrays it as unprincipled but also lacking of the political integrity and moral justification to challenge the opposing grassroots politics.
Furthermore, that brand of politics does not have the socio-political disposition and capacity to midwife the long overdue needed socio-political conscientization necessary for Nigeria to truly "find its soul."
Is Kukah still popular? I say "yes"! But for goodness sake, he is not in the ranks of the likes of the Oscar Romeros and Desmond Tutus of the world.
It is time Bishop Matthew Kukah come out to tell us how much he benefited from the massive corruption under the Goodluck Jonathan administration as he is already frazzled from his previous statements that he will be exposed soon.
____________________________
Kelvin Adegbenga is a freelance Journalist based in Port Harcourt. He can be reached through: kelvinadegbenga@yahoo.com
Disclaimer
It is the policy of NewsWireNGR not to endorse or oppose any opinion expressed by a User or Content provided by a User, Contributor, or other independent party. Opinion pieces and contributions are the opinions of the writers only and do not represent the opinions of NewsWireNGR.