"Was There A Sinister Motive To Be Quiet And Become An Accomplice?" – APC Tells Abdulmumin Jibrin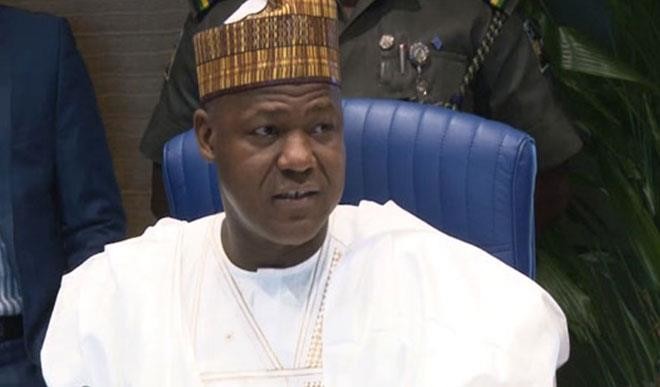 Timi Frank, deputy national publicity secretary of the All Progressives Congress (APC), says Abdulmumin Jibrin should have petitioned the Economic an Financial Crimes Commission (EFCC) and the Independent Corrupt Practices and other Related Offences Commission (ICPC) if he had proof of his allegations against principal officers of the federal house of representatives rather than go the media and bring disdain to the lower chamber.
Jibrin had accused the speaker and four other members of the house leadership of wanting him to cover up their decision to allocate to themselves N40 billion out of the N100 billion allocated to the national assembly in the 2016 budget.
In a statement on Friday, Frank challenged Jibrin to come out with the evidence.
"Was there a sinister motive to be quiet and become an accomplice to the crime he's stated in his press conference? I make bold to challenge Hon Abdulmumin to come up with evidences to these allegations as stated in his press conference," Frank said
"If the allegations made by Hon Jibrin, who instead of confronting the members of the house on these weighty allegations of the principal officers is anything to reckon with, then the ICPC and the EFCC should have been petitioned to investigate these principal officers rather than rush to grant a press conference and bring disdain to the leadership of the house."
According to him, the way and manner, Jibrin chose to express his sack was "disturbing and unprofessional".
He said the national assembly is a sacrosanct institution and must be made to remain so in the eyes of the public even where there are disagreements among lawmakers.
"Any attempt to rubbish this institution must be resisted by all democratic stakeholders, whilst resisting impunity in order to carry out its business of legislative functions to Nigerians," he continued.
"Why wasn't this matter petitioned to the appropriate quarters for investigation since the leadership has no immunity of sort?
"It is also worthy to note that this is the first time since the inception of democracy that a committee chairman of appropriation has been relieved of his duty and as such we await the reasons for his removal from the leadership of the house upon resumption.
"I am therefore requesting that the Hon. Speaker and the leadership of the house of representatives make clear and provide reasons why Hon. Abdulmumin was sacked from his position as chairman appropriation".
He added that Dogara must be commended for his role in championing a people-friendly parliament to the benefit of Nigerians.