Nigerian Army Arrests 10 Suspected Militants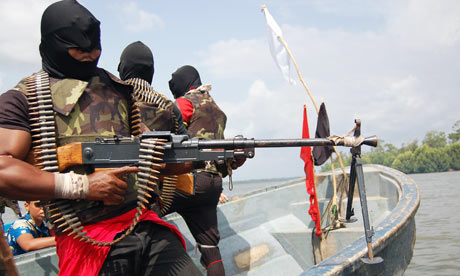 The Nigerian Army on Sunday said it arrested 10 suspected militants and pipeline vandals in the Niger Delta region.
The Commander, 4 Brigade, Nigerian Army, Benin City, Farouk Yahaya, while addressing journalists said the suspects were arrested during a cordon and search exercise conducted in Oporozoa community and its environs in Delta State.
He said the soldiers arrested them and labelled them members of the Niger Delta Avengers while the other residents are currently taking refuge in the bush.
The Niger Delta Avengers is the group that has claimed responsibility for recent attacks on oil and gas pipelines and installations.
However, Mr. Yahaya, a Brigadier General, said the arrested suspects may have links with the Niger Delta Avengers. He said guns, ammunition and other equipment were recovered from them.
He said the operation was conducted professionally in line with the code of conduct and rules of engagement of the Nigerian Army.
The Army also reaffirmed its commitment to tackling pipeline vandalism in the Niger Delta region.
The recent activities of the militants has been blamed for the worsening power situation in the country as pipelines which transport gas to power generating stations were blown up.