Ayo Fayose of Ekiti State Says Ex-President Jonathan Had No Business Contesting The 2015 Presidential Election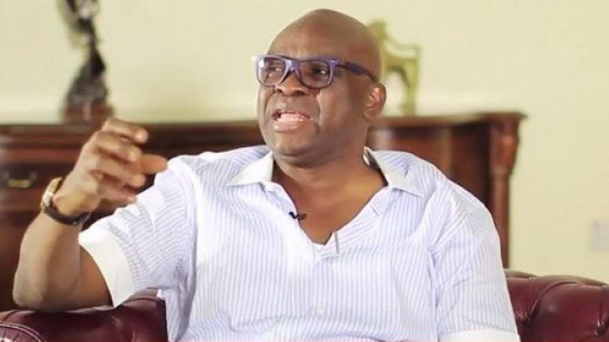 Ayo Fayose, governor of Ekiti state, says former president Goodluck Jonathan should not have participated in the 2015 presidential election.
Though Fayose was one of the main supporters of the ex-president in the build up to the election, the governor said those who sang to Jonathan to run did not allow him get back home, after the defeat, before saying they had retired from politics.
He said the elders of the Peoples Democratic Party (PDP) must take the back seat for condemning the party to a presidential loss in 2015.
He was speaking on Politics Today, a programme on Channels TV.
"I am an ardent supporter of former President Goodluck Jonathan, I love him, I would continue to defend his cause, I would continue to stand up for him, because he did well," he said.
"In my opinion, the only thing Jonathan did that I keep saying, that I hardly want to say, is that if I were him I wouldn't have contested.
"The people that went to tell Jonathan, that convinced him to run, making him to understand that at 58, when he would be done, how would a young man be 58 and say I'm done with presidency, they were the first set of people who said we have retired from politics.
"They didn't even allow him to get home, before they said that. All leaders are coming out today to say they want to rebuild. Rebuild what? What you destroyed? You don't have capacity to do it."
"Chief Bode George is interested in the chairmanship of the party. I have a lot of respect for Chief Bode George, he's our leader. But when we come to the nitty gritty, we must find out the motive.
"Chief Bode George told me personally that he wanted to be chairman of the party. I told him no, 'I won't support you'. With all due respect to the elderly people in this party; they must take the back stage. People are tired of seeing the same old faces.
"I have been hearing Ahmadu Ali since 1976, when we sang Ali must go. Chief Bode George was governor of Ondo state almost 40 years ago. They are our leaders, we love them, but they should take the back stage."
For Doyin Okupe, who served Jonathan as senior special assistant on public affairs, Fayose said he has nothing to tell Nigerians about "rebranding or rebuilding" since he lost with the former president.
He said he wanted Bode Olajumoke to contest for the chairmanship of the opposition party, but he declined.