Christian Association of Nigeria In Strong Terms Warns Against Arresting Ex-President Jonathan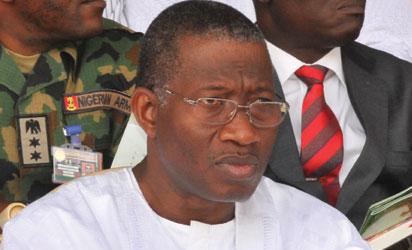 Estimated Reading Time: <1
President Muhammadu Buhari should arrest "marauding and murderous" herdsmen and not former President Goodluck Jonathan, the northern branch of Christian Association of Nigeria (CAN) has said.
There had been unconfirmed reports that Jonathan would be arrested over allegations of corruption, particularly the management of funds meant for the war against insurgency in the north-east.
The funds were allegedly diverted to fund Jonathan's unsuccessful re-election bid in 2015.
In a statement on Wednesday by northern CAN, signed by its PRO, John Joseph Hayab, the body said Nigeria would boil if Jonathan was arrested.
It urged Buhari to focus on arresting the herdsmen menace, erratic power supply and the weak economy.
"Every honest Nigeria knows that the feelers on the ground are that this administration's popularity is dwindling rapidly among the Nigerian people. It is therefore not advisable to think or plan to arrest former president Goodluck Jonathan. Let me warn that such a misadventure will set a wrong precedent and only open door for mischievous people to set this nation into confusion. What Nigerians need urgently is availability of fuel, electricity, prompt salary, security of lives and properties etc," the statement said.
"If the purported plan to arrest Jonathan is to please the international community and prove to them that we are fighting corruption, then let us know that these same international community are busy celebrating him as hero of democracy and even those who seriously wanted him to go for a change to happen are now singing a new song about him. Former President Jonathan is deservedly seen in Nigeria and beyond as a hero of democracy because of his actions before, during and after the 2015 elections. As such, it will be curious for the Buhari administration to initiate the arrest of such a statesman.
"Government must know that there are individuals serving today that have also been accused of corruption, but since there are claims that nothing has been established against them, they are walking and speaking like saints. While ignoring all these people, government now wants to arrest a man of peace like Jonathan?
"CAN Northern states wishes to advice that such an action, if actualized, has the capacity to lead to serious confusion that will affect Nigeria economically and otherwise. We are afraid that such an action may spark chain reaction.
"If our President wants to arrest anything for now then he should arrest the incessant spate of herdsmen attacks in Nigeria which has led to the deaths of almost a thousand innocent Nigerians under his watch. He should arrest the dangerous slide in the power sector; he should arrest the slide in the economy. We believe at this time and with the current realities our former president must not be denigrated but honoured, because honour must be given to whom it is due."