Why We Have Declared All The Recently Conducted Elections Inconclusive — INEC Commissioner Zakari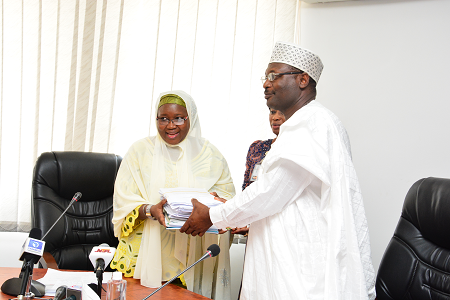 A former acting chairperson of the Independent National Electoral Commission (INEC), Hajiya Amina Zakari, has said that the decision of the electoral body to ensure that every polling unit counts in any election is the major reason why most elections conducted by the commission recently were declared inconclusive.
She spoke at the first national lecture organised by the Ahmadu Bello University Alumni Association held in Abuja at the weekend.
Amina Zakari, an alumnus of the university and current federal commissioner representing the North-West at the commission, said the do-or-die syndrome in the country's politics was fueling violence during elections.
She said for every vote to count, election results in those violent areas had to be cancelled.
"With this, the entire election or part of it has to be declared inconclusive to ensure that every polling unit and of course every vote counts,'' she said.
Earlier, the guest speaker at the event, Professor Ibrahim Agboola Gambari, had spoken on factors sparking ethno-religious crises in Nigeria and how to overcome them.
Alhaji Ahmed Joda, who represented President Muhammadu Buhari at the event, stressed the need for Nigerians to continue to live peacefully with one another irrespective of their social, political, regional and ethnic differences.
The president of the ABU Alumni Association, Dr. Tijjani Mora, said the lecture was organised to bring together graduates of the famous institution.