"Nemesis'll Catch Up With You" – Naked Protesting Edo Women Tell Oshiomhole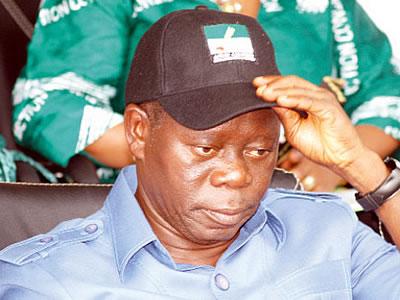 The war of words between Edo State governor, Comrade Adams Oshiomhole and the Esama of Benin kingdom and Peoples Democratic Party, PDP chieftain, Chief Gabriel Osawaru Igbinedion took a dramatic turn yesterday as half-clad women in red dresses, protested through major streets in Benin City to express their displeasure and sadness over the development.
The women under the aegis of Concerned Edo Women who shunned press interview, went to the shrine of Emotan, a sacred statue at the city centre, in a meeting with the Priest, described as 'disrespectful', utterances by the governor against the Benin chief and father of the erstwhile governor of Edo State.
The priest of the Emotan Statue, while receiving the women said the protest was a welcome one as nobody, regardless of his position in the state, is encouraged to insult Bini chiefs, elders and particularly by way of ridicule, malign and outright disregard for the respected Esama of Benin.
He said that," whoever insults the Bini's and its high ranking chiefs is drawing the wrath of the gods and will not go unpunished."
The women said, "We are women and as mothers, sisters and aunts to Chief Gabriel Igbinedion, we say no to any form of disrespectful behaviour for the person of Chief Igbinedion. We as mothers cannot see evil in the land and support it. "We are against the action of the governor, particularly on Chief Igbinedion and his household.
We want the Governor to apologize to the Esama of Benin Kingdom, Chief Igbinedion. All we are asking the governor is to stop insulting elders from Benin Kingdom, so that we do not completely go naked and place curses on him."
They noted that the insulting language employed by the state governor is worrisome and offends human sensibilities and the Benin nation, who are very 'respectful people' and sought to rubbish he sterling lifestyle and qualities of their son and Esama of Benin, Chief Gabriel Igbinedion.