While Saraki Denies Attack, The Kwara Govt Is Accusing Politicians For Sponsoring The Attack On Dignitaries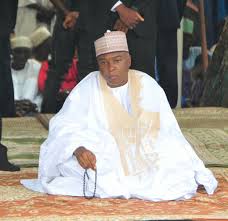 The Kwara State government has condemned the attack on dignitaries at the Ilorin Eid praying ground during Thursday's Eid -el -Kabir celebrations, saying it was absurd, barbaric and unIslamic.
The Senate President Bukola Saraki has denied reports that he was attacked Thursday when he went to pray as part of activities to mark this year's Eid- El Kabir. A statement from his media office yesterday read: "The attention of the Media Office of the Senate President has been drawn to media reports that the Senate President, Dr. Abubakar Bukola Saraki, was allegedly attacked at the Eid Prayer Ground during the prayers to mark the Eid-el-Kabir in Ilorin.
But in a separate statement issued by the chief press secretary to the governor, Abdulwahaab Oba, the government acknowledged the event and accused aggrieved politicans of colluding with some local government council employees to embarrass dignitaries in the state under the pretest of protesting salary arrears at the local government level. The said it it became aware of this plan about four weeks ago but continued to seek ways of resolving the salary crises at the local government level.
According to the statement, government went out of its way to negotiate and secure bank loans to offset the arrears pending the time when the federal government bailout will be released as a result of which the concerned workers promptly received their salaries as directed by the state governor".
Government, therefore, is puzzled by the attack since the majority of state and local government workers, including primary school teachers, have received their salaries.
The state Government said those that are yet to receive their salaries will do so by next Monday as Thursday and Friday are public holidays.
The statement urged politicians not to turn the state of harmony into another theatre of violence, urging the police to bring to justice without delay those already apprehended while imploring the people to mark the Eid El Kabir holidays peacefully and with prayers for the quick resolution of the challenges facing the national economy.