Kerosene Likely Cause Of Air Crashes In Nigeria Says Otedola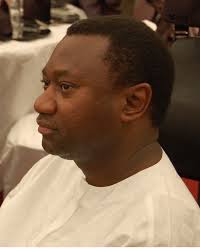 Chairman of Forte Oil Plc, Mr Femi Otedola, has warned that the frequent substitution of jet fuel with household kerosene (HHK) portends imminent danger for the aviation sector and may be responsible for the rising trend of air mishaps in the country.
Otedola, who sounded this warning yesterday, said this illicit act had been identified as a major factor contributing to the rising cost of kerosene in the country and may also be the cause of some of the recent air mishaps in the country.
In a letter to the federal government, made available to LEADERSHIP yesterday in Abuja, the oil mogul said: "The sale of HHK as substitute for Jet A1 fuel by some petroleum marketers to airlines is a rising trend that needs to be curbed."
He noted that HHK is sold by the PPMC at the ex-depot and regulated price of N40.90 with the objective of selling to the average Nigerian at the pump price of N50 litre. However, because it (HHK) shares some physical and chemical properties with Jet A1 fuel, it is being sold by some petroleum marketers to both local and international airlines at the international market price which may be as high as N140/litre.
He said this huge arbitrage has led to the evolution of some mushroom aviation fuel marketers who see this as an opportunity to make big profit.
According to Otedola, the situation is more worrisome because these mushroom marketers are not established and do not have the infrastructure to store, transport and handle Jet A1 fuel in such a manner to eliminate contamination, which is a key safety requirement for global aviation practices.
"The proper care and handling of ATK is paramount in maintaining safe aircraft operations. One of the requirements that operators with high safety standards try to ensure is that their fuel is free from contamination. Contaminated fuel can cause significant damage to the aircraft and engine. "Damage can range from fuel system corrosion, clogging of fuel filtration components, failure of aircraft fuel system instrumentation, and even stopping the fuel supply to the engines during flight. But with proper handling procedures in place, fuel contamination capable of causing problems to the aircraft can be eliminated.
Otedola explained that Jet A1 DEF STAN 91-91 (UK) and ASTM D1655 (international) specifications allow for certain additives to be added to jet fuel. These include antioxidants to prevent gumming; antistatic agents to dissipate static electricity and prevent sparking; corrosion inhibitors and fuel system icing inhibitors.
"Based on the foregoing, it is pertinent that the unwholesome activities of these mushroom operators be curbed in order to ensure the highest levels of safety and global best practice in the aviation industry in Nigeria," he said.