"No Automatic Ticket For Wada" – Trouble For Kogi Governor As PDP Declares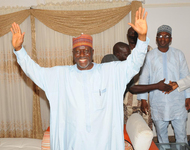 Estimated Reading Time: <1
The national leadership of the Peoples Democratic Party (PDP) has thrown the Kogi State governorship race open among its members as it has promised a level-playing ground for all aspirants.
Emerging from its National Working Committee (NWC) meeting, on Wednesday, the party affirmed that it would not give automatic ticket to the incumbent governor, Idris Wada, but encourage all those qualified to contest to do so.
Speaking at a press conference at the end of the meeting at the national secretariat of the party in Abuja, its national organising secretary, Abubakar Mustafa, noted that Kogi is a PDP state, saying that the party would like to retain it.
"The NWC is conscious of the fact that Kogi State is a PDP state and we want to retain it. Therefore, the NWC is keen to conduct a free and fair governorship primaries," he said.
He vowed that PDP would not impose any candidate on the people of the state as it wanted credible persons to contest the election.
The timetable for the conduct of the primaries released by the party on Wednesday showed that it would begin the sale of forms from August 17 till 24; screening of governorship aspirants takes place August 27, screening appeal, August 29; ward congresses for three ad-hoc delegates, September 3; ward appeal, September 5; state congresses (governorship primary), September 10 and governorship election appeal, September 12.
The PDP NWC also announced the date for the conduct of congresses in the Edo State to elect party executives as the tenure on the incumbents will expire in September.
The party has scheduled the conduct of ward election for September 10, local government election, September 17 and state election, September 24.