Workers At The PDP Secretariat Have Apologised To The Party Leadership Over Crisis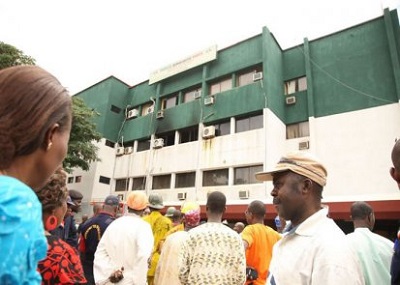 The workers of the Peoples Democratic Party, PDP have apologised to the leadership of the party over their actions during the week-long crisis that hit the opposition party.
In an apology letter addressed to the Acting National Chairman, Uche Secondus and members of the NWC, the staff said they regretted their actions.
"Following inflamed passions, several allegations of corrupt practices' bordering on speculation were raised against our respected members of the NWC. We regret the unintended consequences of our allegations especially the resultant damage caused to the reputation of members of the NWC and the party.
"Arising from the same inflamed passions and frustration, it has now dawned on us that proper channels of communication were not followed in expressing our grievances.
"To this end, we hereby offer our unreserved apology to the members of the NWC as well as the teeming members, supporters and stakeholders of the PDP for this unfortunate development.
"We regret any unintended consequences of our actions and inactions especially considering the efforts of the NWC to reposition the party to play a credible role as an opposition party poised to save Nigeria from emerging fascism," the workers said.