16 Political Parties Want Nigeria's Election Postponed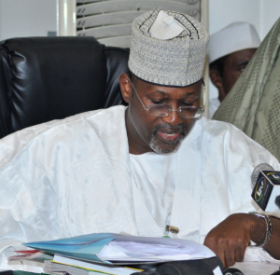 16 registered political parties and four presidential candidates yesterday joined the call for postponement of the forthcoming general elections.
The presidential candidates, including Godson Okoye of the United Democratic Party (UDP), Sam Ekeh of Citizens Popular Party (CPP), Tuned Anifowose Kelani, Action Alliance (AA), and Ganiyu Galadima (ACPN) insisted that the present security situation in the country and the untidy manner in which INEC has handled the distribution of the Permanent Voter's Card (PVC) has made the call for the postponement patriotic, stressing that the level of violence, threat of violence and use of foul languages have been a clear breach of the Abuja Peace Accord which was signed by the 14 presidential candidates.
Making their positions known at a press conference yesterday in Abuja, Okoye said a shift in the date of the election does not contravene the provisions of Section 25 and 26 of the Electoral Act, stressing that it will afford INEC enough time to distribute the remaining PVCs to registered voters.
The political parties and their presidential candidates who threatened to boycott the election if INEC ignores their request argued that a credible election cannot take place in a country where a geo- political zone would be practically excluded due to insecurity.
But in a swift reaction, the presidential candidate of the United Progressives Party (UPP), Chekwas Okorie, condemned the call for the postponement, describing it as unpatriotic.
Okorie stated at a press briefing yesterday in Abuja that the assurance which INEC has given on its readiness for the election as well as the progress in the distribution of PVC have given hope that the election would be conducted in a free and fair manner, adding that 80 percent participation in every democracy will make for a legitimate election.