Remember Former Speaker, Patricia Etteh? Impeached Over Corruption Scandal? She Has Defected To APC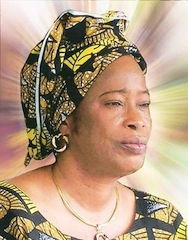 Former Speaker, House of Representatives, Hon. Patricia Olubunmi Etteh, defected to the All Progressive Congress (APC).
Etteh left her former party, Peoples' Democratic Party (PDP) along with thousands of her supporters in her constituency of Irewole, Ayedaade and Isokan Federal constituency of Osun State.
The former speaker, in a rally led by the Governor of Osun, Rauf Aregbesola, to the federal constituencies to drum up support for the candidates of APC in this month's elections, noted that her coming to the party was long overdue.
In September 2007, Ettehn, then a speaker of the House of representatives, faced a committee of at the national assembly over accusations that she had authorised the spending of 628 million Naira (about US$5 million) on renovations of her official residence and that of her deputy, and the purchase of 12 official cars meant for the House of Representatives.
Etteh addressing the huge crowd told her supporters that she decided to join the APC because of the party's progressive policies and the love for the masses. She told her supported, she wanted to contribute her quota to the development of Nigerians.?
"The transformation of the state under APC is glaring for all to see," she added.
Aregbesola while admitting the former Speaker and her supporters in Ikoyi, Apomu, Ikire, Araromi Owu, Orile Owu and Gbongan? stated that it was a good thing that the great politician is joining the winning party at this crucial time.
He said: "February 14 and 28 elections are significant for the change that Nigerians have been clamouring for, we need not say much. Our good work has been speaking for us, we plan do more than what we have done in the last four years.
"We can only do more with your support by voting all our party members in the forthcoming elections. I also want to use this opportunity to thank you for standing behind us during the last August 9 governorship election.
"We are here again to ask for your votes for our presidential candidate and every other candidate in your Federal constituency. We must show to the world that Osun is completely APC."