Confab: Delegates Reconvene, To Debate 75% Voting Formula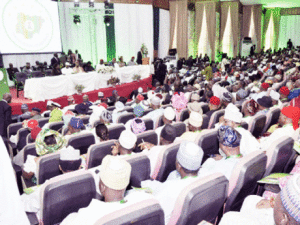 By Amina Alhassan Ahman
About 490 delegates at the ongoing National Conference will reconvene today after their abrupt adjournment last Wednesday to debate the recommended 75 per cent voting formula for adoption of resolutions or otherwise.
The 75 percent or three-quarters majority votes is said to be the resolution of the Group of 50 wise men and women who consulted with the leadership of the conference over the weekend.
Last Tuesday, a rowdy session on whether three-quarters or two-thirds majority votes should be the voting formula forced the leadership accede to advice by a delegate from Ogun State, Mr. Fola Adeola, that the secretariat should meet with leaders of the six geopolitical zones on how to reach a consensus on the issue.
At a resumed sitting the following day, deputy chairman of the confab, Prof Bolaji Akinyemi, announced about 50 names of delegates seen as opinion leaders across the country as the wise men that would meet with the chairman, Justice Idris Kutigi, for consultation on how to arrive at a common ground.
Kutigi thereafter adjourned proceedings from about 11am to 4pm in order to meet with the opinion leaders for consultation, which did not yield any result. Consequently, at the resumed sitting by 4pm same day, he announced another adjournment to today, saying the adjournment became necessary in view of the then ongoing consultation with the opinion leaders, the outcome of which the conference's leadership would present to the larger delegates today.
There have been unconfirmed reports that the G-50 has agreed that in the event of the plenary or any committee not arriving at a decision through consensus after three attempts, matters would then be decided with three-quarters or 70 per cent majority votes. If this development is anything to go by and if it eventually sails through debate today, about 366 delegates will be required to agree on a decision.
While most of the delegates advocating for the two-quarters majority votes are seen to be of the South, majority of those calling for the retention of three-quarters majority votes as enshrined in the draft National Conference Rules of Procedure book are of the North, a situation which has brought in mutual suspicion and polarisation of the delegates along the North-South divide.