Leadership Tussle Hits House Of Representatives, As PDP, APC Lawmakers Clash
By Ini Ekott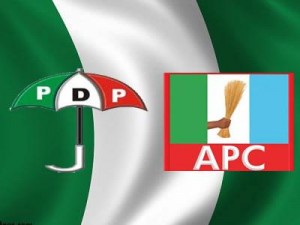 The PDP and the APC have upped their campaign to win over more members to be in majority
The House of Representatives descended into chaos Tuesday as lawmakers resumed from a four-week break to face a crisis over which party takes the leadership of the House between the Peoples Democratic Party, which commands at least 171 members, and APC with a minimum of 172 members.
A federal court had on Monday barred the APC, despite its superior number, from taking over the leadership of the house.
But crisis erupted momentarily Tuesday after the Minority Leader, Femi Gbajabiamila, addressed the Deputy Majority Leader, Leo Ogor, as Deputy Minority Leader, in a clear message his party will insist on being recognized as the majority.
Mr. Gbajabiamila was contributing to a motion tabled by another member on the crisis in Rivers State, which called for the dismissal of the police chief, Joseph Mbu, in that troubled state.
The deputy leader, Mr. Ogor, had criticized the motion as a potential embarrassment for the house if passed, as the matter concerns security and the police commissioner had not been given fair hearing.
Mr. Gbajabiamila's remarks drew an angry response from PDP members who insisted the comment be withdrawn. Mr. Gbajabiamila said his remark was a "statement of fact."
Speaker, Aminu Tambuwal, said he was "taken aback" by the remarks as a meeting of the leadership had insisted on calm as the court's decision had been received by the House.
"As lawmakers, we should be the last, as an institution and as individuals, to disobey a court order," he said. He asked the members to play politics as politicians but be careful with issues affecting the nation.
At a news briefing later, Mr. Gbajabiamila said the Nigerian House of Representatives was "the only parliament in the world where the minority plays the role of the majority."
He described the court ruling blocking the APC from the planned change of leadership as "shameless", but said his party would obey the court while it studies the content of the order.
"We have seen the hand writing on the wall, and it is clear they are trying to stop the inevitable," Mr. Gbajabiamila said.
Read more Premiumtimesng