Muslim and Christian clerics in the North has appealed to Nigerian artiste, David Adeleke, popularly known as Davido, for humanitarian help.
The religious leaders pleaded with the musician to consider the area in the disbursement of his N250 million donations to orphanages to help stem the trend of orphans turning to terrorists.
According to the religious leaders through the general overseer of Christ evangelical and life intervention ministry Sabon Tasha Kaduna state in North western Nigeria, Pastor Yohanna Buru, "The call becomes mandatory in view of the Millions of children that are forced to turn into orphans due to Boko haram attacks, cattle rustling, banditry, kidnapping, terrorism and ethno-religious, political attacks that have been disturbing peace and stability in many communities across the North".
NewsWireNGR recalls the musician had asked fans and colleagues, "If u know I've given you a hit song .. send me money …. una know una selves oo".
He got about N200 million donations while he decided to add N50 million and donate it all to orphanages across the nation.
In a press statement dated November 19, 2021, which the singer posted on his social media, said; "I received about NGN200,000,000 in less than two days.
"I am delighted to announce that all funds received, totalling NGN 200,000,000 will be donated to orphanages across Nigeria as well as the Paroche foundation. In addition, I will be making personal donation of NGN 50,000,000.oo, bringing the total amount to NGN250,000,000.
He, however "established a five-person Disbursement Committee".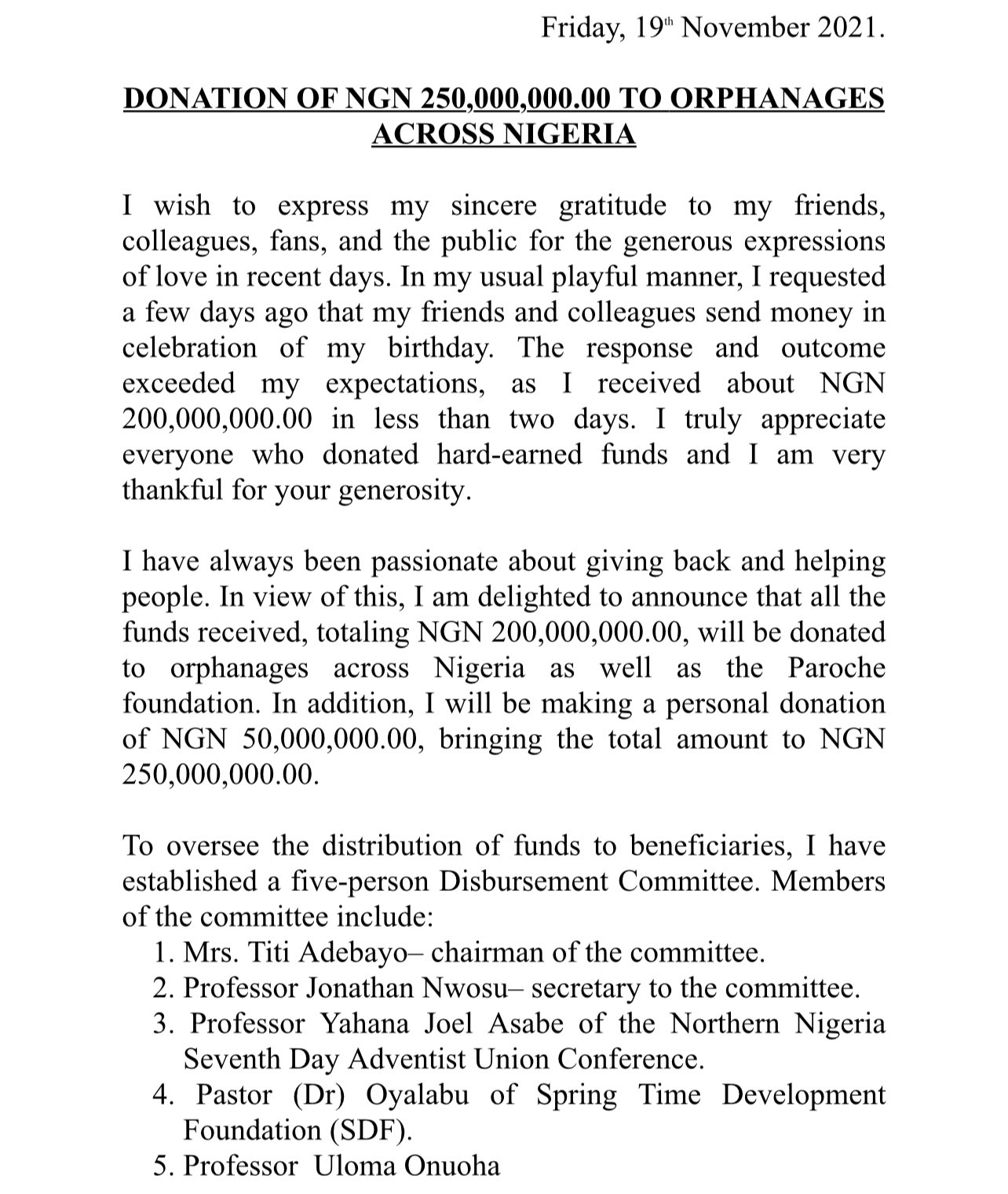 The cleric, Buru, also drew the attention of all local government chairmen across the 774 LGs in the country, to render support towards changing the lives of orphans for a better future.
"Large number of children were turned into orphans due to continuous bandit attacks in the North and hence the need to appeal to Davido and other too wealthy musicians to kindly remember some orphanage homes and some kids at various IDP CAMPS across the northern part of the country."
"The primary objective of humanitarian aid is to save lives, alleviate suffering and maintain human dignity.
"It may, therefore, be distinguished from development aid, which seeks to address the underlying socioeconomic factors which may have led to a crisis or emergency," he said.
NewsWireNGR Latest News in Nigeria