NBA Star & Kloe Kardashian Ex-husband, Lamar Odom Fighting For His Life, Found Unconscious #PrayersForLamar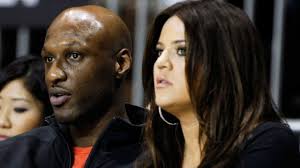 Lamar Odom, the former basketball star and ex-husband of Khloé Kardashian, was rushed to a Las Vegas hospital Tuesday after he was found unresponsive in a Nevada brothel, authorities said.
Odom, 35, who won National Basketball Association championships with the Los Angeles Lakers in 2009 and 2010, experienced a "medical emergency" at the Love Ranch, a legal brothel in the town of Crystal, Nye County Sheriff Sharon Wehrly confirmed Tuesday night.
Odom had been taking what Dennis Hof, the brothel's owner, characterized to NBC News as "herbal Viagra," and "he was taking a lot of it." But no illegal drugs were found in Odom's room, Hof said.
Odom is famous outside the sports world, as well, for having married Kardashian in 2009 in a wedding featured on the E! series "Keeping Up with the Kardashians." They divorced in 2013.