"Who Buys A Private Jet For $10million For Goodness Sake?" Alison-Madueke Says She Hasn't Committed Any Crime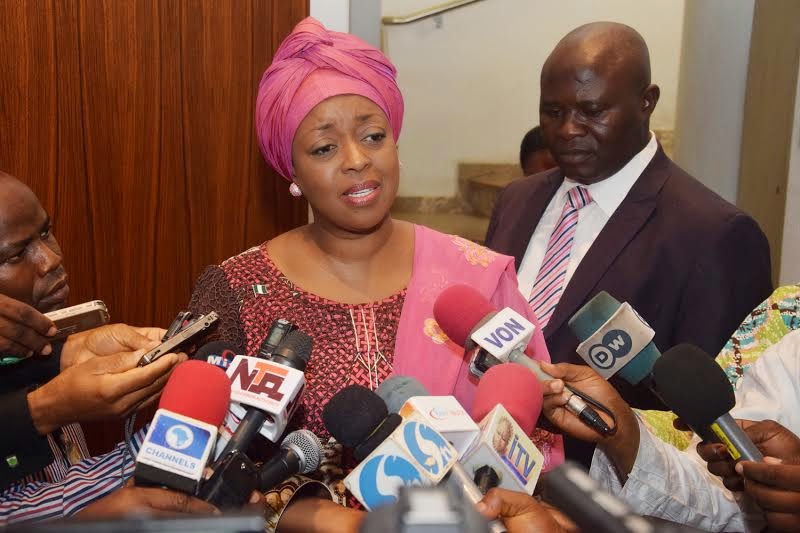 Estimated Reading Time: <1
by Deji Abiodun
Diezani Alison-Madueke, minister of petroleum resources, says she has not committed any crime and is not seeking asylum, even though she stepped on big toes during her tenure.
Petroleum Minister Diezani Alison-Madueke asked who buys a private jet for $10million after she was accused of buying one for that amount while in office while speaking to State House correspondents after the Federal Executive Council, FEC.
"Who buys a private jet for $10million for goodness sake?". Mrs Madueke said while responding to questions bordering on the Petroleum Industry Bill asked by newsmen in Abuja today April 22nd. She also said she stepped on big toes with the reforms she brought but never committed any crime. What she said below…
"In that bill are all the reforms needed to tear NNPC apart, make it a National Oil company, an equity share company through transparency, accountability & responsibility and reduce corruption in the industry. We did all theses and we put them in place to reduce corruption, so for me to be tagged with various tags of corruption, $10 million jet purchases, who buys jet for $10 million dollars for goodness sake?
Fielding questions from the media in Abuja on Wednesday, Alison-Madueke — probably the most criticised minister under President Goodluck Jonathan — said her recent meeting with Abdulsalami Abubakar, former head of state, had nothing to do with speculations that she was looking for "soft landing" from the in-coming administration.
She said: "I have not sought such assistance because I am not aware that I have been indicted of any crime that I will need a soft landing. Over the last four years, I have been severally and unfortunately accused and labelled in so many malicious and vindictive ways. I have explained these things and pushed back robustly on these accusations and I have even gone to court on many of them. Yet they keep being regurgitated.
"I think it is unfortunate, particularly when we are moving into a transition period and looking forward to an incoming government which is coming to take over where we have ended. For everything that has a beginning there is an end and that is not a surprise. What is the surprise is the sort of malevolence bothering on personal malicious libel to my person during this period of time.
"I do believe that I have done the best for Nigeria in this job and I have attained many firsts in the history of oil and gas especially in the reforms that we have done. In this period of time, I have stepped on many big toes, particularly the toes of the cabals that were in the industry when we came in.
"I have said severally that we will open up the industry to all Nigerians, and we have, but that is not to the pleasure of certain cabals. And I have been continuously maligned because of this. We have taken millions and in fact billions of dollars out of the hands of multinationals and their subcontractors and put them in the hands of Nigerians through the Nigerian Content. Hundreds of thousands of Nigerians have come into the oil and gas industry because of our reforms.
"Quite frankly, I think as unprecedented as it is, it does not please everybody and that cannot be helped but let us remember the unprecedented reforms that have happened in the oil industry during our time, such as major gas reforms, the Petroleum Industry Bill, which has been completely revised, reformed and put into the hands of members of the National Assembly where it has languished for two years."