'I Wanted To Claim My Own Name' Chimamanda Ngozi Adichie Speaks As She Covers Vogue Magazines' April Issue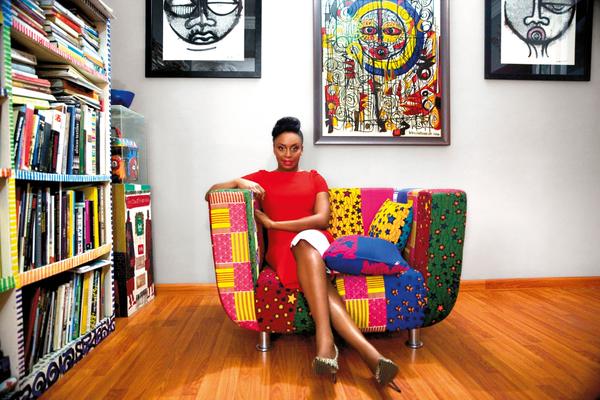 Estimated Reading Time: <1
But Chimamanda Ngozi Adichie has many more stories to tell, as Erica Wagner discovers for the April 2015 issue of Vogue Magazine UK.
The oppression of women, she says, "Makes me angry. I can't not be angry. I don't know how you can just be calm. My family says to me, 'Oh, you're such a man!' – you know, very lovingly… But of course I'm not, I just don't see why I shouldn't speak my mind."
She got into trouble for speaking her mind in Nigeria: when an interviewer addressed her as Mrs Chimamanda Adichie, she corrected him, saying she wished to be known as "Ms", which the journalist reported as "Miss". Her insistence on her own family name was all over the news here last spring.
She should be happy to be addressed as "Mrs", she was told, since she was, after all, married. She laughs now, but it's clear the story still disturbs her. "It was the lack of gratitude on my part for having a husband. And yet I didn't want to proclaim it: I wanted to claim my own name."
Her 2009 TED talk, "The Danger of a Single Story", has had – wait for it – more than eight million views; it is a sophisticated yet charming and accessible essay on how we might see the world through another's eyes.
But that viral explosion is nothing compared with what happened to the talk Adichie gave in 2013 at TEDxEuston, a series of talks in London focusing on African affairs. Entitled "We Should All Be Feminists", the speech, which addressed a feminism beyond race or class, took on a very different life.
Before she had realised the impact her words were having, she got a call from Beyoncé, who eventually sampled the talk in "Flawless", a song on the eponymous album she released, to the world's surprise, on iTunes that December: it reached the top of the iTunes charts in 104 countries and sold nearly 850,000 copies in three days.
Beyoncé first discovered Chimamanda when she came across her talk online. "I was immediately drawn to her," says Beyoncé. "She was elegant and her words were powerful and honest. Her definition of a feminist described my own feeling: equality of the sexes as it pertains to human rights, equal pay and sexuality. She called the men in her family feminists, too, because they acknowledged the need for equality."