Aba Crises: If We Were At War, Story Would've Been Different – Army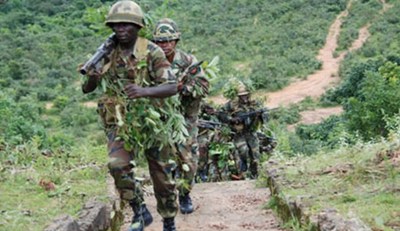 The Nigerian Army has said it is not at war with any ethnic group, or group of persons in South East Nigeria.
The Director, Army Public Relations, Sani Usman said this on the network service of the Federal Radio Corporation of Nigeria, FRCN, Friday, Sept. 15.
Usman responding to questions from Nigerians who called in told listeners that the army never intended for clashes with civilians. He said the army's current engagement in Aba in Abia State is an exercise that had been in the works for some time.
"We are not targeting anyone, Egwu Eke II is not only in Aba, it engulfs the entire south-east including Cross river state.
"In the course of this year, we have had similar exercises across the north, Kunama and Dokan Biyu which covered the north-west and parts of the north central. It was targeted at the spate of kidnappings, armed robbery and cattle rustling in the regions.
"Egwu Eke was planned for and budgeted and approved by the federal government. It is not just about this exercise.
"The show of force was just in words, it was not in action. It was a harmless drive around the area until some miscreants tried to commandeer it. They attacked troops with machetes and sticks, leading to the injuries a woman walking by sustained, and that of Corporal Kolawole Matthew.
"People on social media took that and turned it upside down".
"On the issue of the video that emanated on social media, the deputy director, army public relations immediately informed the public that investigations had commenced and as we speak, arrests have been made.
"The army has made it clear that it will not tolerate indiscipline or infringement on our code of conduct and rules of engagement during such exercises.
When a caller called asking if the Army was at war in the south-east, Sani said "we are not at war, if we were, the stories coming from the operation would have been very different.