Christian Association Wants Nigeria To Withdraw From Islamic Body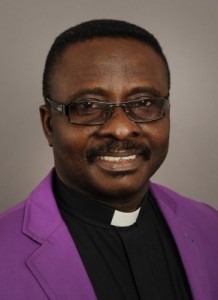 The Christian Association of Nigeria (CAN) says Nigeria's membership of the International Islamic Liquidity Management Corporation (IILMC) should be withdrawn.
Godwin Emefiele, governor of the Central Bank of Nigeria (CBN), was made chairman of the IILMC during the 17th governing board meeting of the organisation in Jakarta, Indonesia.
But in a statement on Thursday, Bayo Oladeji, media assistant to Samson Ayokunle, president of CAN, said this was contrary to section 10 of the Nigerian constitution, which states that "the government of the federation or a state shall not adopt any religion as state religion".
He said based on the constitution, Nigeria could not join any body that is religious.
"Against this background, Nigerians should focus on some pertinent questions with intent to make the government offer right answers," he said.
"The questions are as follow; What is Nigeria doing in Islamic and Shariah compliant organisation? Who authorised the governor of the Central Bank of Nigeria to join this organisation? What provision of our constitution supports our membership of a religious association as a secular state?
"We also recall how President Muhammadu Buhari not only smuggled Nigeria into the '34-state Islamic military alliance against terrorism' but he and his government poured invectives and venoms on those who spoke against his unconstitutional action."
Ayokunle expressed concerns over majority of security agencies being headed by people from a particular religion.
He said lopsidedness could be traced in different areas of the current administration.
"Do we need to repeat our concern that almost all the heads of security paramilitary agencies in Nigeria today are Muslims, as if Christians have become second class citizens or rather lack competent officers to in charge! Has Nigeria become an Islamic state?" he asked.
"We also recall the controversy surrounding the funding of Jaiz bank, an Islamic institution, with the public money by the immediate past CBN governor with impunity.
"Recently, when the minister of education, Mallam Adamu Adamu overhauled the heads of the 17 parastatals and agencies under his watch, 13 out of 17 of them were and are Muslims! Is this government saying it is only Muslims that can be trusted?
"A government that is interested in the unity and peace of the country should not be taking actions such as the lopsidedness of its appointments at the expense of one religion with impunity."
CAN said the Buhari government is not a listening one and that is dangerous to the future of the country.
"Equally, we are surprised by the argument being canvassed in some quarters that Nigeria is not a secular, but a multi-religious nation. Assuming but not conceding that Nigeria is a multi-religious state, should the government policies be pro one of the religions at the expense of the others?" he asked.
"Many of our Christian brothers and sisters are being killed like rams in hundreds by the Fulani herdsmen while our security agencies look elsewhere all because none of their heads is a Christian. This is not the Nigeria dreamt of by our founding fathers, and it is high time the government woke up to its constitutional responsibilities.
"Christians have equal rights with our Muslim counterparts since the 1999 Constitution recognises the multiplicity of religions and we will no longer pretend as if all is well with Nigeria. Let it be stressed here that we love our Muslim brothers and sisters in this nation and we are aware that we cannot do without one another."