Buhari Has Destroyed Jonathan's Legacy of Free And Fair Election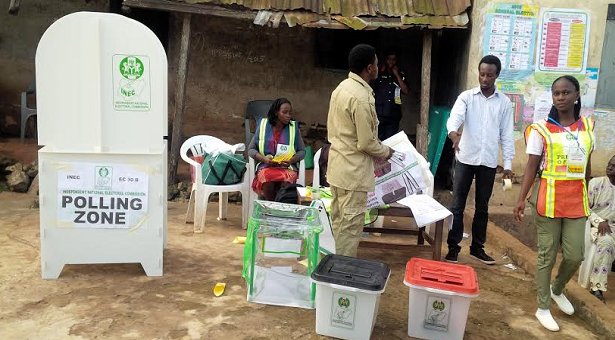 Ayodele Fayose, governor of Ekiti state governor, says President Muhammadu Buhari has destroyed the Peoples Democratic Party's (PDP) legacy of free and fair election.
Fayose described Saturday's rerun national and state house of assembly elections in Rivers state, as a "sad reminder of the level of destruction already done to the country's electoral process by the All Progressives Congress (APC) government of President Mohammadu Buhari".
"Free, fair and credible election is dead in the country and that whatever victory that is recorded by any political party in the Rivers state election will be nothing but victory at gun point," he said.
He said it was worrisome that "the legacy of free, fair and credible election left by the Peoples Democratic Party (PDP) has been destroyed less than two years that the APC assumed power".
"We thought that we had gone past this era of manipulated electoral process after the 2015 general election, which brought the APC and President Buhari to power, but the Buhari's administration has taken us back to the Stone Age by merging his party, APC with the Independent National Electoral Commission (INEC), the police, military, and other security agencies," he said.
In a press statement issued on Sunday by Lere Olayinka, his special assistant on public communications and new media, Fayose said what happened in Rivers on Saturday is a clear indication that Nigeria is under siege and that "only prompt intervention by the international community can save democracy in the country from this imminent collapse".
"It is sad that snatching of ballot boxes, hijacking of voting materials and electoral violence, which had become a thing of the past, have now become part of our electoral process," he said.
"It is even more worrisome that despite that votes are counted openly at the polling units, electorates are no longer sure of the results of elections until announcement by INEC, which has become an organ of the APC."
He described Buhari as "a pretender who has only paid lips service to the sustenance of democracy in the country", adding that "any president that looks the other way while the rights of his people to freely elect their leaders is being snatched at gunpoint by his own party men is not worthy of being associated with democracy".
He reiterated his call to the US president-elect, Donald Trump, to focus his attention more on Nigeria, with a view to saving the country from disintegrating, saying.
"God forbid, if Nigeria disintegrates, the entire continent of Africa will disintegrate," he said.
"The order of the day in Nigeria now is disobedience to court orders, abuse of human rights, extra judicial killings and mass burial of innocent Nigerians killed by the army.
"The reality we must all face is that should all these be allowed to continue, Nigeria faces imminent danger and the international community must not allow the country to get to that level of total collapse before it begins to call President Buhari and his APC to order."