Abdulmumin Jibrin Says His Suspension Is 'Inconsequential', Goes To Court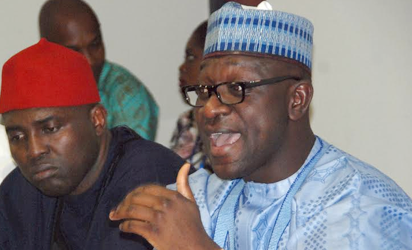 The former chairman of the House of Representatives' Committee on Appropriation, Representative Abdulmumin Jibrin, has described his suspension for 180 sitting days by the House as 'completely inconsequential'.
The lawmaker was suspended on Wednesday for allegedly breaching the practices and precedents of the House of Representatives.
According to the House, Representative Jibrin is also required to tender a formal written apology to the House, before his future resumption of duties.
He is also barred from positions of authority in the House till the end of the 8th assembly.
The House of Representatives has three sitting days in a week and going by that the lawmaker will be away for 60 weeks.
Reacting to the suspension, the lawmaker said the process that led to the decision of the House was a complete waste of time.
"Whatever product comes out of that process, as far as I am concerned, is completely inconsequential and cannot stand anywhere.
"The matter is in court and it is a matter of litigation," he told Channels Television.
Mr Jibrin said he had asked his lawyer to file a suit against the Speaker of the House of Representatives, Mr Yakubu Dogara, for contempt.
"While I wait for the formal correspondent from the House, I have in anticipation instructed my lawyer, Femi Falana, to charge Speaker Dogara for contempt, because he is aware that the matter is in court and he went ahead to table the matter before the House and referred it to the ethics committee.
"Of Cause, predictably, this is what they wanted and as far as I am concerned, it is not an issue," he stressed.
The House had asked him to apologise, but the lawmaker said he would not apologise.
"I can tell you very clearly. I will never, ever, apologise to anybody in the House of Representatives.
"I did not commit any offense, I didn't do anything wrong. I have said it repeatedly that in the five years that I have spent in the House of Representatives, I have never abused my office. I have never corruptly enriched myself, so I have no reason to apologise to anybody," the lawmaker from Kano State said.
Representative Jibrin had accused some principal officers of the House, including the Speaker, Representative Yakubu Dogara, of padding the 2016 budget.
After he made the claim, the lawmaker submitted some documents he claimed were evidences to four Federal Government's agencies against the Speaker of the House, Yakubu Dogara and 11 others.