Nigerian Senate Orders Slaughter of Roaming Cows In FCT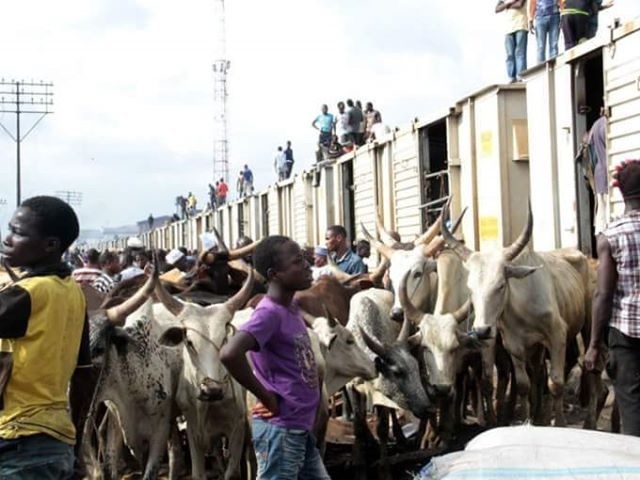 The Senate Monday ordered the slaughter of cows found roaming within the Federal Capital City (FCT) Abuja metropolis.
In the alternative of slaughtering such roaming cows, the upper chamber said that the cows should be arrested and a fine of N50, 000 imposed per cow.
This is the declaration of the Chairman, Senate Committee on FCT, Senator Dino Melaye at an interactive meeting with the FCT Minister, Mohammed Bello and Chief of Army Staff, Lt. Gen. Tukur Brutai in Abuja on the seizure.
The session was summoned over the alleged seizure of over 400 plots of land in the Maitama District Extension, Abuja by the Nigeria Army
Melaye said that the responsible movement of herds of cows in and around the FCT in wonton disregard of law and order has become a matter of embarrassment to the residents of the capital city.
The Kogi West lawmaker said that the FCT minister and other under him have been authorized to slaughter any wandering cow within the FCT metropolis.
He further mandated the FCT Minister to henceforth arrest roaming cows warning that the minister would be severely sanctioned if mandate was not carried out.
Melaye said, "We are not particularly happy with the state of sanitation in the FCT. We have received a lot of complaints across the metropolis of FCT but the greatest of it all is the menace of cattle rearers in the territory."
The lawmaker recalled how on his way to the Nnamdi Azikiwe International Airport, Abuja he saw an underage herdsman with over 50 cows passing through the pedestrian route which blocked the only route for created for pedestrians.
The movement of the cows, he said, caused pandemonium among passersby of the area who were forced to flee the route.
He added, "To me that is absurd, that is not acceptable in the capital city. If it were to be at a time when we have a visiting president/ diplomats from other countries visiting our country what impression are we giving to our visitors.
"So on this note we authorize the slaughter of any cow that is seen within the metropolis and if that is not going to work any cow that is seen within the metropolis of FCT must be arrested with a minimum fine of N50, 000 per cow.
"This must be enforced if not anytime again we see cows or we receive reports of cows moving around the streets, the committee would sanction the FCT administration."
He also frowned against the menace of hawkers and beggars in the streets of FCT and asked the ministers to enforce the law on the issue.