Nigerian Ports Has Experienced 51 Percent Decline  – NIMASA Says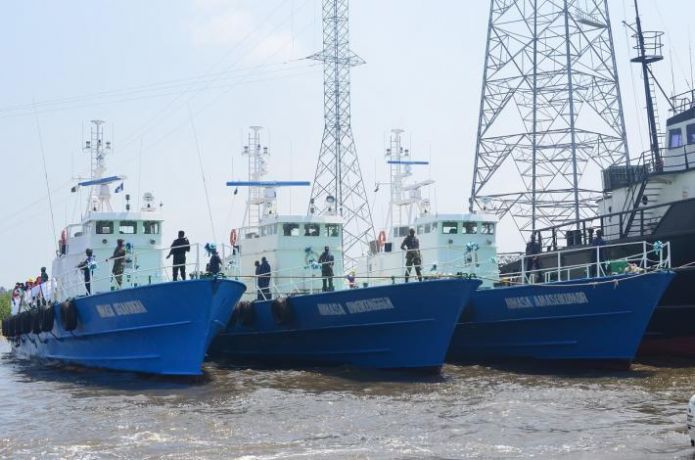 The Director-General of the Nigerian Maritime Administration and Safety Agency (NIMASA), Dr Dakuku Peterside has disclosed that the nation's ports has witnessed 51 percent drop in inbound and outbound vessels.
According to him, the Nigerian ports, which has been witnessing growth of its tonnage, has experienced a decline as a result of economic downturn, which has also affected activities at the nation's ports.
Disclosing while receiving the President of Maritime Reporters Association of Nigeria (MARAN), Mrs. Ifeyinwa Obi who paid him a courtesy visit in his office in Lagos on Wednesday, he said: ''The country is witnessing growth on its tonnage everyday despite the drop," he said.
He however said that for his administration to succeed, the management of NIMASA would continue to engage stakeholders at all times and encourage them to buy into the development of industry's potentials.
Meanwhile, the director-general has debunked the allegation that the ongoing restructuring of the agency was a vendetta and a ploy to weed out those whose employments were considered inappropriate.
He said the restructuring, being fast-tracked by his administration, was an idea of maritime stakeholders who observed that NIMASA, as presently constituted, is performing expanded functions it inherited from JOMALIC under the garment of the old National Maritime Authority (NMA).
He noted that the restructuring of the agency has to take place in order to avoid a possible collapse of the organization, saying part of the restructuring was to create standard procedures for an effective maritime administration.
He said: ''there is no truth in the allegation that the restructuring is based on vendetta or inappropriate employments. It is in line with stakeholders' observations.
''What we are doing is to fast-track the restructuring. I can assure Nigerians that the restructuring will not lead to reduction in staff strength."
In the area of security and safety, Peterside said some stakeholders in the maritime sector misunderstood the role of the agency in the area of safety of vessels on the sea, saying NIMASA was not set up to go after pirates but it is its duty to create platforms to effect enforcement of safety of vessels that are coming or leaving the shore of the country.
He added that NIMASA would outsource the platform and assured that his administration would not compromise safety and security of the nation's sea.
The NIMASA boss praised the role being played by maritime the press towards the development of the industry and enjoined them not to relent.
Earlier in her address, MARAN President, Mrs. Ifeyinwa Obi, said the agenda of the Director-General for the industry would speed up rapid development of the industry and assured Dr. Peterside that the maritime press would work with the agency to actualize the agenda.