EDO 2016: Oshiomhole Accuses PDP Candidate, Ize-Iyamu of Looting N1.7 billion Tax-payer's Money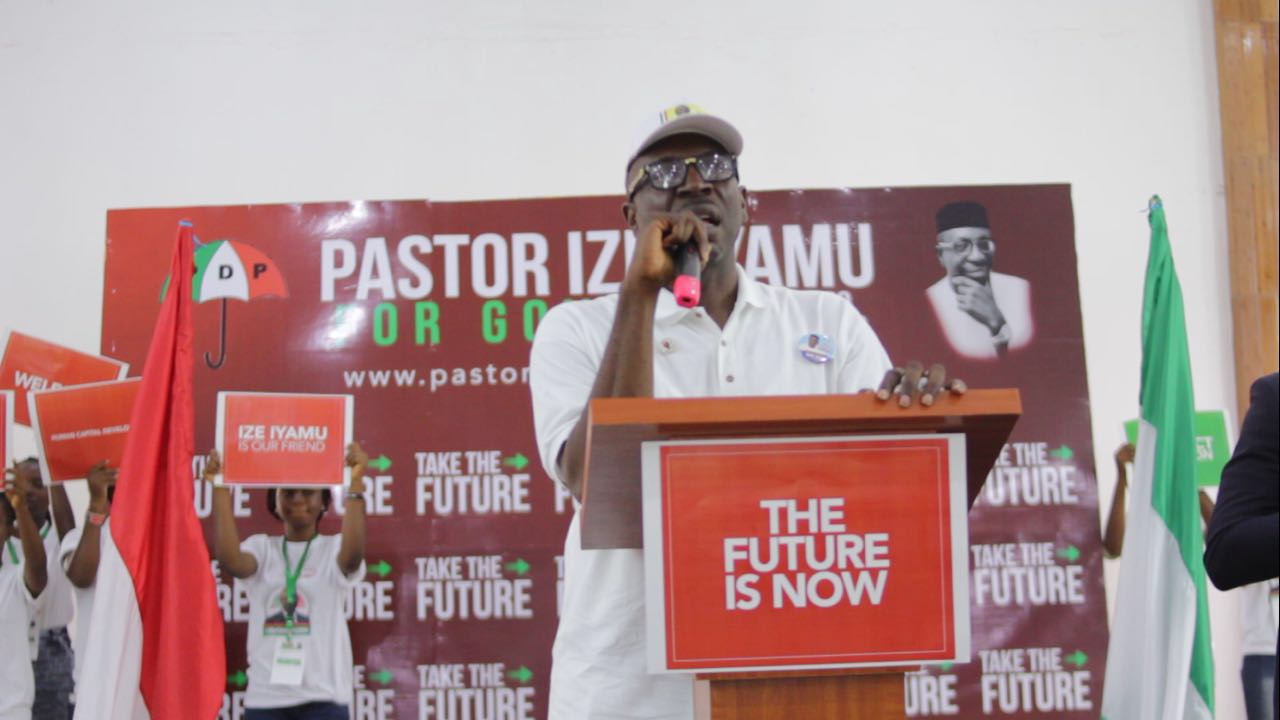 Benin City, the Edo State capital at the weekend stood still as governor of the All Progressives Congress; (APC) converged at the state capital to flag-off of APC governorship campaign of the party in the forthcoming September 10 election.
Thousands of APC faithful who thronged the venue of the colourful flag-off event which held at main bowl of Dr Samuel OgbemudiaStadium defiled the early morning as they sang and danced to various songs
APC Governors at the events include, Owelle Rocha Okorocha, (Imo), Mallam Nasir El-Rufia, (Kaduna), Hon Samson Lalong (Plateau) Abdullahi Abubakar, (Bauchi) while Oyo, Niger, Kogi and Borno states were represented by their deputies
Governor, Adams Oshiomhole who addressed the mammoth crowd challenged the People's Democratic Party Ahmed Makarfi Factional led candidate, Pastor Osagie Ize-Iyamu and former Governor Lucky Igbinedion, to road walk through the street of Benin.
The governor, asked Ize-Iyamu to account for the sum of N1.7 billion tax-payer's money for erosion control at Teachers' house and the dredging of Ikpoba River in Ikpoba Okha Local Government Area of the state during Lucky Igbinedion administration.
He said an additional N1. 9 billion was appropriated by Ize-Iyamu to dualize Okada township road in Ovia North East Local which he said was completed on papers, but abandoned by the previous government.
He also challenged the Economic and Financial Crimes Commission (EFCC) to fasten their investigation in prosecuting actors involved in the Dasuki-gate fund, including Pastor Osagie Ize-iyamu.
"They awarded contract led by Ize-Iyamu as a Pastor, they said they want to dualize that road from Okada junction to their own village, Okada town. Instead of building University for Edo state with Edo people's money, they built private University for themselves.
"With Ize-iyamu as the Chief Operating Officer, they channelled your money to Ikpoba River. Just like the same way a military Airforce Officer under Jonathan carried money and kept it in a soak away pit. They (Ize-Iyamu and others) took the money to Ikpoba River and said they were dredging. The dredger turns dredge. Yesterday (Friday); I was going through their list of roads, in the books, which I will publish soon; they did pay money for the dredging of teachers' house.
"They spent N1.7 billion for the first phase. Anytime, they were broke, they will say teachers' house and spend N2 billion. Over the period, only God knows how many billions they spent. When the people ask why more money is spent, more erosion you get. They said, ah, the problem of teachers' house is caused by mammy water spirit. Even if we can't punish them, God will punish them", he said.