'Fulani Herdsmen Have Taken Over My home,' Benue Governor Ortom Cries Out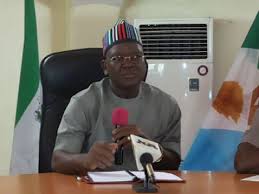 Benue State Governor, Samuel Ortom has said that his country home has been taken over by rampaging Fulani herdsmen.
Ortom made the disclosure on Thursday, May 26, 2016, during a meeting with the All Progressives Congress (APC) Governors' Forum, led by Imo State Governor, Rochas Okorocha.
"The mercenaries invaded my village, killed over 50 persons and destroyed over 200 hectares of my rice farm. As I am sitting here, I have no ancestral home. They killed children, old men and women in my community," Ortom said.
"The mercenaries come to Benue not just to graze but to steal, kill and destroy the livelihood of the agrarian people, after which they take possession of the land knowing full well that all we have here are our farms.
"These attacks have brought a major setback to the people, especially with our declining revenue from the federal allocation, which was about N7 billion before I assumed office. But this month stood at N1.3 billion, while our monthly wage bill stands at close to N4 billion," he added.
Ortom also said that the perpetrators of the crime had not yet been arrested.