Nigeria And France Strengthen Military Cooperation To Crush Boko Haram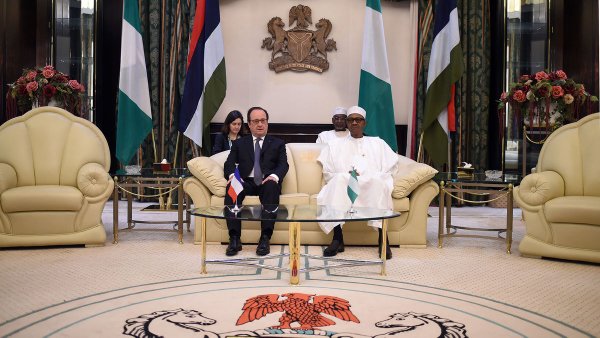 French President Francois Hollande and Nigerian President Muhammadu Buhari agreed to strengthen military cooperation and work with the West African country's neighbors in an stepped-up effort to crush Boko Haram.
Buhari said the EU and others had pledged 916 million euros ($1.035 billion) to help rebuild Nigeria from the impacts of the Islamic militant group, which among other things has displaced more than 2 million people in the country's northeast.
The leaders spoke in the capital, Abuja, on Saturday following a summit also attended by the heads of state from Cameroon, Niger, Chad and Benin, and representatives of the U.S., U.K and European Union. One of the meeting's goals was to help orchestrate the safe return of more than 200 Nigerian schoolgirls abducted in April 2014.
"On the issue of Boko Haram, when there is a threat to a country in Africa, there is a threat to France," Hollande told reporters after saying that France will share intelligence, help with counterinsurgency training, and provide equipment to those fighting the group.
While Boko Haram has been weakened by better cooperation among countries in the region, the group remains a threat, Hollande said. The Abuja talks followed a high-level regional security meeting in Paris two years ago.
"We must take the opportunity this summit presents to evaluate the successes we have achieved, consolidate the gains, identify any shortcomings we have experienced, and then draw important lessons," said Buhari.