Buhari Will Not Sign The 2016 Budget, Returns Document To National Assembly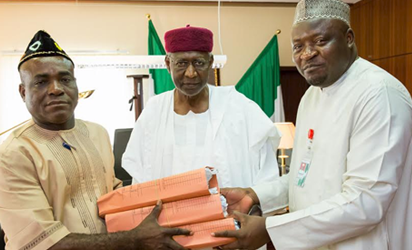 President Muhammadu Buhari appears set to return the 2016 Budget to the National Assembly to rework because what the lawmakers sent to him on Thursday for assent, according to Presidency sources, fell below his expectations.
By implication, Buhari will not sign the Appropriation Bill into law, as earlier planned, before jetting out of the country this weekend to China for economic and business deals for Nigeria, Vanguard Newspaper reports..
The President felt disappointed that provisions for major national projects and programmes that could turn around the economy were either outrightly removed or funds for them ridiculously slashed by the lawmakers.
It will be recalled that, in a bid to urgently assent to the bill, which was transmitted to him on Thursday, the Presidency had convened an emergency Federal Executive Council (FEC) meeting on Friday where the document was distributed to Ministers to review as it affected their respective ministries, departments and agencies.
At the review meeting presided over by Vice President Yemi Osinbajo, who is the Head of the Economic Team, it was discovered that many strategic projects were either removed or provisions made for them significantly slashed to the point that made a mockery of the projects.
The source lamented: "The amounts provided by the National Assembly for the projects can neither complete the on-going road projects nor the new ones proposed. At the end of the year, no progress would have been made".
According to the source, a top Presidency official, allocations for the purchase of essential drugs for major health campaigns like polio and AIDS for which the store is fast depleting, were removed and the amounts allocated to provision of ambulance, which the health ministry did not ask for.
"It was also observed that certain provisions made in the areas of agriculture and water resources to further the Federal Government's diversification project were either removed or reduced while the funds were moved to provisions of rural health facilities and boreholes, for which provisions have been made elsewhere," the official said.
"The President is desirous of signing the Bill into law so that implementation of the provisions could begin in earnest for the benefit of the people. That is why the moment he received the document on Thursday, a meeting was convened for Friday to immediately start work on it", the source concluded.