Governor Aminu Masari Sets Up And 11-man Judicial Panel To Probe 'Missing N70bn' In Katsina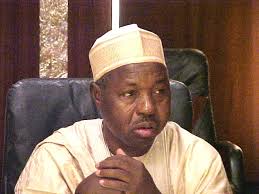 Aminu Masari, governor of Katsina state, has inaugurated an 11-man judicial commission of inquiry to investigate the alleged N70 billion unaccounted for by the administration of Ibrahim Shema, his predecessor.
Inaugurating the commission in Katsina on Monday, Masari said it had become necessary to embark on such step because more than 90 per cent of the money was illegally taken by some officials of the previous administration.
He said the officials involved failed to give adequate explanations on the money, hence the decision to set up the panel.
"It is not our intention to set up the commission but the previous administration refused to give us explanations on the missing funds," he said.
"We are not investigating on how contracts were awarded but how the money was removed from government treasury illegally.
"There are some mistakes that can be forgiven but N70 billion is a huge amount of money that we cannot overlook, people of Katsina want to know about their money."
Masari said the government would give everyone involved a fair hearing on the matter and urged the commission to discharge its duties with fairness and justice.
He said the commission, which would investigate funds missing within the last three years of the previous administration, has three months to submit its report.
Responding, Muhammad Suraj, chairman of the commission, promised that the panel will be fair while discharging its duties.
"We will give the accused adequate time to appear and defend themselves. We will abide by the oath we have taken," he said.
All we solicit is for prayers from the public to enable us to be fair to all involved.