READ The Interview Where Fayose Threatened To Bring Down Muhammadu Buhari's Government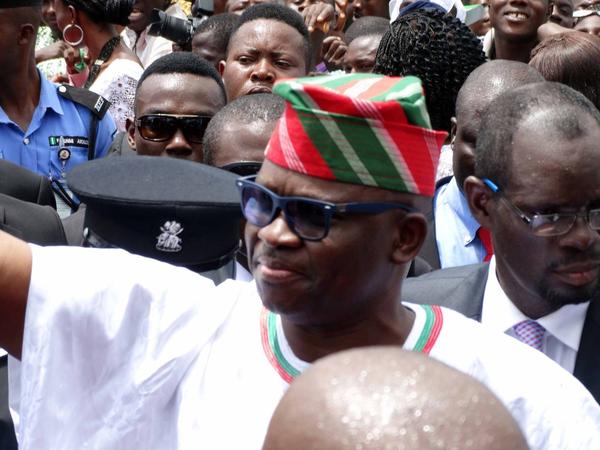 No-holds-barred interview with PREMIUM TIMES' Josiah Oluwole in Ado-Ekiti, the Ekiti State Governor, Ayodele Fayose, speaks about his administration, President Muhammadu Buhari, and other matters.
We re-published excerpts of the conversation… Enjoy
Why have you been frontal in your attacks on President Muhammadu Buhari and the Federal Government?
Fayose: You see, the power of Buhari is not more than to kill somebody. He can send soldiers to you to come and kill you but people will know that the killing is not normal. It must be a high-wired killing. I am not afraid of him.
The power of Buhari is not more than you go and lock somebody up. I am not afraid of him. I am not in the calibre of politicians who are saying, 'ah don't let me die o! Don't let my mother die o,! You don't take the inheritance of your father if you are not sure you are ready to take it. I am not in that category. Most noble men today have gone underground for fear of the unknown.
And in times like this, when you train a lion, when you keep a lion in your family house, those of you promoting that lion will end up in his stomach one day. The same thing we were telling Obasanjo that time. We said Obasanjo was a dictator. Obasanjo consumed most of them who were promoting him that time. I have never minced words, before the campaign…
I am not a sycophant to say that it was after Buhari became president that I started praising or talking against him.. I started from day one.
I was 24 years old when Buhari was head of state of Nigeria. We were daily being beaten in Ibadan when we queued up for essential commodities. I remembered how he stopped import duties and did a lot of things damaging to the economy, the same way he is still doing it today. God raised Joseph at a given time. God raised Moses to warn Pharaoh of the consequences of his leadership, until he perished. I have said it clearly that any attempt to confront me and attack my government will bring Buhari's government down. My name is Ayo Fayose, I mean every word I am saying. As powerful as God has made the snail, he warned the snail to beware of salt.
God gave the snail a protected shield behind him and told him to crawl all over the world, but warned him to be mindful of salt. I am salt. He should be mindful of me. It doesn't matter his might, we have seen presidents before. We were here when Obasanjo was here. We were here when other presidents came and we will still be here when he will leave. I am not a coward.
Call me controversial if you like. Men that will make history will be very controversial. Courageous people will be controversial. The bible makes it very clear that the righteous will be as bold as a lion.
Your brand of politics is that of controversy. You cut an impression of a very controversial personality. You raised a lot of controversies in your first tenure leading to your impeachment and now it is almost the same, why is it so?
Fayose: I am like that. Everybody is peculiar. You become an issue when you are not a conformist. I am a very clear person. The style in Nigeria and the world over is to lie. It is to do a make- belief. It is to deceive the people. It is to promise change, when you know it is only a "one chance" promise. I am not a man like that. I am not a perfect man, but the path of a righteous man is always a challenge. They know that l represent light. Let me explain to you – have you ever seen in Nigeria where any man will leave office in those challenging situations and will come back again, eight years exactly. I was forced out of government at gunpoint under the Obasanjo administration on the 16th of October 2006. I came back on the 16th of October 2014, exactly eight years. Analysts told me that I took oath of office at exactly the same minute. Let me tell you the truth.
There is a way truth catches up with people and there is a way posterity judges you right. Posterity is judging me right because I have dominated the politics of Ekiti State in the last 15 years. Nobody can controvert that. The denominator in politics is the people, not propaganda. If the people can say this man come back in a falling state…I am the issue in Ekiti politics and by extension Nigerian politics. I am the longest serving Nigerian governor. I served in the Obasanjo administration. I was in the same tenure with (Bola) Tinubu, with (Adamu) Mu'azu and others. I was in the same administration with former President Goodluck Jonathan and am now in Buhari administration. I am a major force, I am a factor; you cannot ignore me. If you ignore me, it is at your own peril.
PT: You just mentioned that you were forced out of office under the Obasanjo administration…..
Fayose: (Cuts in) I don't want you to ask that question yet. I just want to round this one off. I want you to take note. I am the first Nigerian governor to defeat two incumbent governors at two different attempts, landslide. I did not only defeat them, I defeated them in their homes, in their wives' bedrooms, in their sitting room, everywhere. They were badly defeated. They have all the forces, they have all the money, and they have the contacts. It shows with all the noise, all the controversies, I am the issue there. I served in the south west 12 years ago, and with all due respect to all my former colleagues, I am still a factor and a force they cannot forget in Nigerian history. All politics are local. Without this fact that I am strong at home, nobody will remember me today. I defeated Adeniyi Adebayo; I defeated Kayode Fayemi and they all came together to face me and by the grace of God, I defeated them. That shows you that this man has a backing beyond normal. Let me tell you – it is not easy. They cannot come out to say why is my "wife" beating me all the time? They can only come out to cover their tracks. They are not on ground here. In Nigerian politics I only say the truth. They took me to EFCC for eight years. I was detained in Ikoyi prison for 45 days. My wife was detained for 33 days and I won all litigations against them. They went to harass my wife at home and I got judgment against them for N10 million. They went to the Court of Appeal, I defeated them. They went to Supreme Court, I defeated them. I am waiting to collect my money from them now. You see you cannot get it more right than I am getting it.
Whether you like me or you don't like me, it is either you like or you hate. I too I don't like you if you don't like me. I am not sorry for you. I told Nigerians that they should not vote for Buhari and that Buhari will not do well. My name is Ayo Fayose. He will not do well. The attitude of a man can only be corrected when you are still young. The older you get….