Bayelsa Deputy Governor's Brother Escapes Death, Hoodlums Left Him Unconsious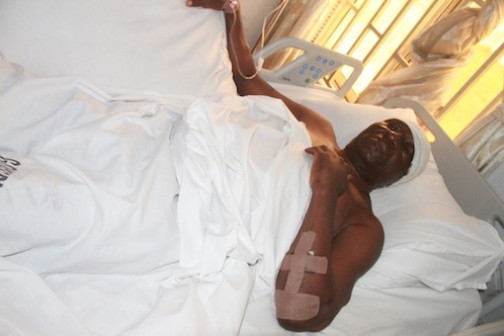 The Bayelsa deputy governor's brother, Beinmopre Jonah, escaped death by the whiskers on Thursday, as thugs suspected to be working for the All Progressives Congress, (APC) invaded his residence in Ekeki, Yenagoa local government area of the state, leaving him unconscious.
The hoodlums suspected to be party thugs, stormed his residence brandishing dangerous weapons, including machetes and cudgels.
The entire area was thrown into pandemonium, as the suspected thugs threatened to shoot, maim and kill anybody that may put up resistance or call security operatives.
According to an eyewitness account, "The invaders overpowered his guard, broke the security lock of the gate and headed straight to the living room, where he was with members of his family and they attacked him."The victim overpowered him and the defenceless Jonah was inflicted machete cuts all over his body before they finally left.
The operation, which lasted for close to two hours left the entire neighbourhood in a state of fear, as they were made to stay indoors.
As at the time of filing this report, the victim whose head was heavily bandaged with machete cuts all over his body is receiving treatment at the Government House clinic, Yenagoa.
Also, efforts to get his comment on the incident proved abortive, as he was in a state of unconsciousness, with serious injuries to his head, neck and chest.
The attack is coming on the heels of Saturday's supplementary polls in Southern Ijaw LGA and 101 units across 6 local governments in the state, which is expected to be a deciding factor.
Reacting to the incident, the Director of Publicity, Restoration Campaign Organisation, Hon. Jonathan Obuebite condemned the attack, describing it as a confirmation of the PDP's earlier position that APC is not ready for election but for war.
"The attack on the immediate younger brother of the Deputy Governor is a pointer to the terror that the APC is planning to unleash on the people of the state during Saturday's re-run."
The Director of Publicity, therefore, called for thorough investigation into the matter, adding that, this is the only way the people in the state will have confidence in the security personnel.
According to him, it is sad to note that, some top politicians and ex-militants alleged to be responsible for the botched December 2015 governorship election in Southern Ijaw local government area are still working freely, without being arrested by the security agencies.