Amaechi Wants Wike To Go To Court Over N82 million Spent To Host Nobel Laureate, Wole Soyinka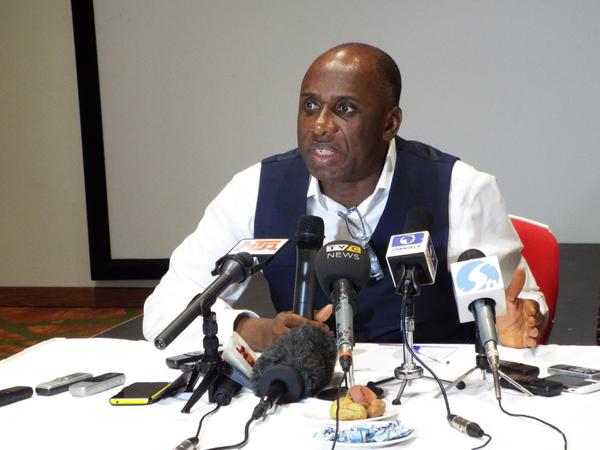 Former Rivers state governor Rotimi Amaechi has denied claims by the Rivers state government that he spent N82 million to host Nobel laureate Wole Soyinka to a dinner in the state when he was in office. The state Commissioner for information had in a statement released on Tuesday alleged that the former governor spent the said amount to organize an 80th birthday dinner party ?for Soyinka.
In a statement released by his media aide David Iyofor, Amaechi denied the allegation, asking the state governor Nyesom Wike to go to court if he found anything incriminating against him.
He said this recent allegation was an attempt by the state governor to distract the Rivers state indigene from focusing on his election fraud
"Wike must stop these silly distractions. Rivers people are not interested in his lies and witch-hunt. Rather, Rivers people want to know what will happen to their children that he stopped and cancelled the funding of their scholarships abroad.
Rivers people want to know why the Rivers State Sustainable Development Agency (RSSDA), an agency setup by law is no longer functioning under Wike? Why instead of quality education, a standard set by his predecessor, under Wike, grasses and weeds have taken over the beautiful schools built by Amaechi? Rivers people want to know why the standard health facilities and services put in place by the Amaechi administration are rotting away, not this petty rambling.
Rivers people want to know why the Wike government does not care about the security of their lives and property, as violence and criminals have taken over. Rivers people want to know why it feels as if there is no government in Rivers State, and this is in spite of the billions of naira that has accrued to the Wike administration and the tens of billions of naira borrowed."
He warned Wike against dragging the names of respected Nigerians who have made the country proud globally and who are internationally known to be honest and forthright, such as Prof Soyinka into his unbridled, unashamed and ill-advised attack of his former boss and benefactor.