Just In: Drama In Court As Ex-PDP National Chairman, Arrives In An Ambulance In A Wheel Chair For Corruption Trial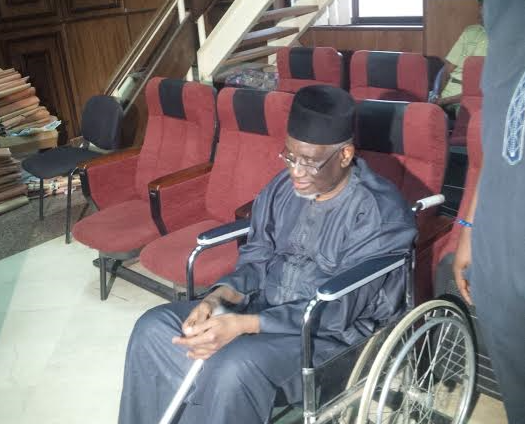 Haliru Mohammed, former PDP national chairman was arraigned before a Federal High Court in Abuja following allegations of diversion of funds.
Mohammed, who is being prosecuted along with his son for their role in the diversion of funds meant for procurement of arms by the office of the National Security Adviser (NSA) arrived the court premises in an ambulance.
Bello is currently in court 7 of the federal high court, Abuja, in a wheel chair.
Bello, who is being prosecuted by the Economic and Financial Crimes Commission (EFCC), for corruption, was brought into the court a few minutes past 10am.
He clutched a string of praying beads and a walking stick, and would intermittently mutter words to himself.
Bello's son, Abba, who is being prosecuted by the anti-graft agency, is also present in court, flanked by two EFCC operatives.
As of the time of filing this report, Ahmed Mohammed, the judge, was yet to sit.
Photo Credit: TheCable