Shehu Sani Blasts Buhari's Anti Corruption Fight, Says "It Is Political"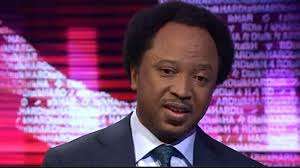 Estimated Reading Time: <1
The Senator representing Kaduna Central, Shehu Sani, has condemned the anti-corruption war by the President Muhammadu Buhari's administration, saying it is driven by political consideration.
Speaking at the 8th Forum of the laureates of Nigerian National Order of Merit in Abuja, Sanni said no issue should dominate national discourse more than corruption, adding that political considerations could affect the anti-corruption fight.
Sanni charged the Code of Conduct Bureau, CCT, to probe the asset declarations of other Governors who served at the same time as the Senate President, Bukola Saraki, because politics should not be mixed with anti-graft war.
Reacting to the investigations into the ongoing arms deal supervised by the former National Security Adviser, Sambo Dasuki, Sanni said corruption has its consequences as seen in the arrest of those in charge of security in the last administration.
According to him, "Insurgency is for some industry, business enterprise and means of making money. Even Governors would say they allocate hundreds of millions to security but when you go there you won't find anything.
"They say because of allocation to security they can build schools. So it is for all of us to see why we have not won the war against insurgency and why people are killed because of corruption. Politics mixed with corruption will take us nowhere," he said.
He  added that: "It is only in Nigeria that one says because somebody has contributed to the success of the ruling party, corruption charges should be withdrawn against him. But if he falls out of favour tomorrow, then, EFCC will bring up the remaining."