Buhari Says Climate Change Threatens The Existence Of Nigerians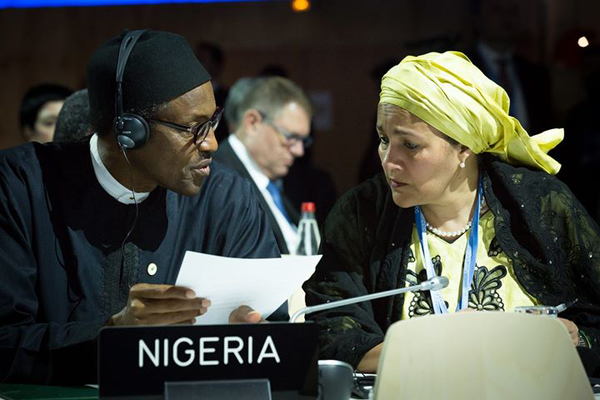 President Muhammadu Buhari has raised the alarm that climate change was threatening the totality of human existence in Nigeria.
Speaking in Paris on Monday while presenting Nigeria's position at the opening of the United Nations Climate Change Conference being attended by 150 world leaders, he said climate change was also threatening the sustainable development of Nigeria's social and economic activities.
Buhari, who emphasised that climate change posed a threat to food security in Nigeria, said the world leaders had a historic chance to save the planet by coming up with binding resolutions for sustainable development.
"Without a doubt, climate change is threatening not only the sustainable development of our social and economic activities but also the totality of human existence in our country as in other parts of the world", he said.
According to him, like many countries, Nigeria continues to witness the adverse effects of climate change in all its ramifications.
"Presently, we are reeling under the challenges of climate change as the frequency and intensity of extreme events like floods and drought is on the increase. These challenges have resulted in the destruction of many economic and social structures and more worryingly, threatening our national food production and security. The magnitude of insurgency Nigeria is facing cannot be completely explained away without taking cognizance of the threat of climate change.
"At the sub-regional level, we're saddled with the challenge of the drying up of the Lake Chad Basin, which is resulting in the total wipe out of livelihoods of many communities surrounding this trans-boundary natural resources. Regrettably, the world is leaving behind millions of people who depend on the Lake for their survival.
"The Government of Nigeria welcomes the Lake Chad Development and Climate Resilience Plan, and the Lake Chad Basin Commission and international partners for designing this climate-based Plan. In all, the experience of countries sharing the Lake Chad further illustrates the mutual challenge we face today and which must be collectively addressed without further delay", Buhari said.