Late Abubakar Audu Didn't Steal Says Senator Dino Melaye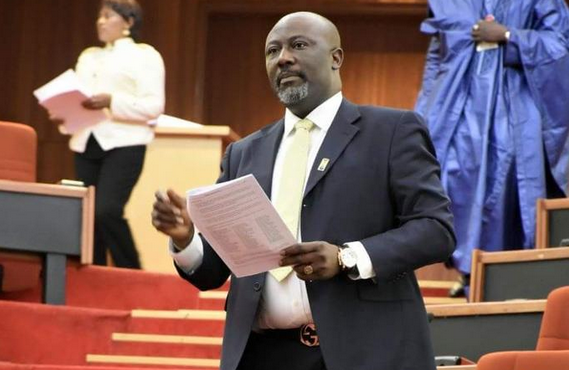 The senator representing Kogi-West, Mr. Dino Melaye, on Wednesday, said the deceased candidate of the All Progressives Congress in the Kogi State 2015 governorship election, Prince Abubakar Audu, was innocent of the allegation of misappropriation of public funds levelled against him.
The Economic and Financial Crimes Commission had on March 18, 2013 arraigned Audu, who was a governor of the state, before an Abuja High Court on 36 counts bordering on criminal breach of trust and misappropriation of public funds to the tune of N10, 965,837,040.
Melaye, who spoke during a late show on the African Independent Television monitored by our correspondent, also described the allegations as a witch-hunt.
He said, "How can a man who received N17bn in less than four years steal N11bn? This was a man who paid pensioners, did not owe workers and carried out a big infrastructural development in the state. What has the EFCC been investigating since 2003? It is all politics. Audu never stole Kogi's money. This was a man who built Kogi State University, Kogi State Polytechnic, Obajana Cement Factory and signed a Memorandum of Understanding with Dangote Cement. Audu built all the institutions that exist in the state today."
Asked his opinion on the rumour that Audu was poisoned, Melaye said he would not say what he did not know.
Melaye added, ''I cannot say he was poisoned. I will not say what I do not know. God is the only one who sees everything. I can only weep. For him, it was the end of a cycle.''
According to him, the majority of politicians in Kogi are too elitist.
He said, "Audu was the only politician who was down to earth in Kogi State. I was his closest political associate. He loved his people. He was a friend of the downtrodden. It will be difficult for any other governor to connect with the people like Audu did. A man who was ready to listen to bean cake sellers and cobblers was a man to be taken seriously.''