Confusion In Kogi State As 'Prayer Man' Tries To Resurrect Abubakar Audu But Fails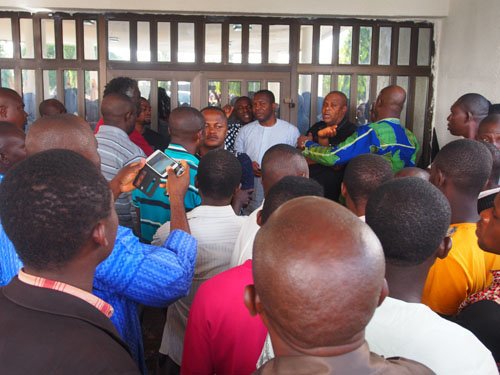 Tension has gripped Ogbonicha, the home of the All Progressives Congress gubernatorial candidate in the Saturday election in Kogi State, Abubakar Audu, following the delay in the burial of the politician, who died Sunday evening.
Mr. Audu's burial was initially fixed for 10am (today) Monday, a situation which made friends and relatives to besiege his palatial home early in the day.
But after waiting endlessly without the burial taking place, angry mourners started demanding his corpse be brought out.
To forestall the breakdown of law and order, PREMIUM TIMES reports, security personnel blocked the main entrance to the late politician's home.
This, the correspondent said, did not deter the angry relations as many of them forced their way into the compound.
"Some of the relations banged repeatedly at the door of the room where the corpse of the late APC candidate is kept awaiting burial," said the reporter.
At point, a cleric was taking into the house to pray and possibly revive the late politician.
Our reporter said, "Interesting twist as prophet seeks to pray for Audu's corpse and bring him back to life Security inside and family members would have none of it but angry youths break the door open
?
"The prayer man has successfully been forcefully taken in by the wish of the crowd and they have all joined in the prayers for the resurrection of Audu with Holy Ghost fire renting the air as well as shouts of Allahu Akbar.
?"Dino Melaye and some family members came out through the back door to calm the angry crowd. While they are largely engaged in fervent prayers others are weeping loudly by the door.
?
?"As men and women of faith engage in fervent prayers to bring Audu back to life others are digging his grave in one end of the compound."
His burial has now been fixed for 2 PM.
Mr. Audu died a few hours before the election was declared inconclusive by the Independent National Electoral Commission.
He had the highest number of votes ahead of 21 other candidates in the election, including the incumbent, Idris Wada, who ran on the platform of the Peoples Democratic Party.