Nigerian Army Confirms Story On Deadly Gun Battle That Left Several Soldiers Missing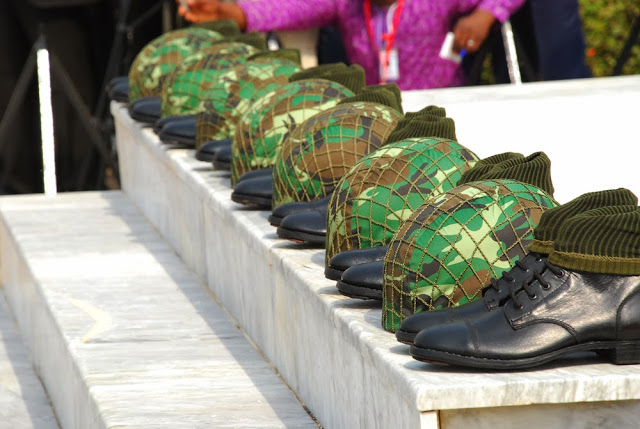 The Nigerian Army has confirmed PREMIUM TIMES exclusive report on Boko Haram's attack on Nigeria's 157 Battalion attached to the Multi-National Joint Task Force in Baga, Borno State.
Citing a reliable military source, PREMIUM TIMES reported that at least 105 soldiers including their commanding officer were feared missing after the attack on Wednesday.
"Gudunbali was attacked this morning and some weapons were captured from the battalion. Two officers and 105 soldiers are still missing," our source said.
"They captured a T-72 tank from the unit and some artillery weapons were also captured. The commanding Officer of the battalion is yet to be seen but no one has been confirmed dead yet," our source said.
We also reported that soldiers of the Multi-National Joint Task Force stationed at Baga, Borno State were also attacked in Geringiwa, about four kilometres away from the headquarters of MNJTF.
The spokesperson for the Nigeria Army, Sani Usman, a colonel, who had earlier said enquiries on the matter should be directed to officials of the 7 Division of the Nigerian Army in Maiduguri, called our reporter after the story was published to confirm the incident.
"I want to confirm the incidence at Gudunbali but the details you provided were not correct, and Baga has never been attacked," Mr. Usman said on telephone.
"The unit attacked is within the area of responsibility of the MNJTF and troops are now organising to counter the attack," he said.
He said the Theatre Command of the 7 Division would provide the details of the attack during a press conference arranged later today in Maiduguri.
Mr. Usman however did not give any details to counter our account of the incident.
The theatre commander of the counterinsurgency operation, "Operation Lafiya Dole", Yushau Abubakar, also sounded evasive during a press conference in Maiduguri on the missing soldiers after the deadly clash.
Mr. Abubakar, a major general, neither gave details of the casualty profile nor categorically stated whether soldiers were missing.
"Our troops were attacked in Gudumbali where we dislodged the Boko Haram there. We had an attack and we are sorting it out. But I have not heard anything relating to what is being reported in the media.
"I have spoken with the CO (Commanding Officer) there even this morning and I have not heard anything of such from him! Yes we went to Gudumbali and we were attacked and we repelled them and we are currently sorting out the situation. In war anything can happen and the operation is ongoing," the commander said.