Lagos Government Turns Against Economist Magazine, Says Attack On Gov. Ambode "Reckless, Slanderous"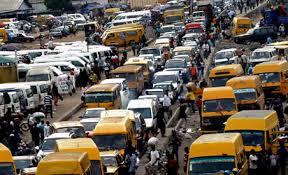 The Lagos State Government has described as "reckless" and "slanderous" an article published in the latest edition of the Economist magazine which blamed Lagos State governor, Akinwunmi Ambode, for the worsening traffic and increase in criminal activities in the state.
The Economist had written a scathing article describing Mr. Ambode as "weak", "less competent" and "full of excuses."
It said the governor had managed to roll back the successes achieved by his predecessor, Babatunde Fashola, in reducing crime and easing vehicular gridlocks in the city.
In a statement on Wednesday, the state Commissioner for Information and Strategy, Steve Ayorinde, said the Economist's article was "reckless", "slanderous" and "ill-conceived."
Mr. Ayorinde said he deemed it fit to write a rebuttal because the article titled"Paralysed: Why Nigeria's largest city is even less navigable than usual", contained a "series of bias judgment in it."
Describing the article as the work of fifth columnists, Mr. Ayorinde wondered why traditional and social media in the country latched on it at "a time Mr. Akinwunmi Ambode read the riot act to traffic offenders on the readiness of his government to carry out comprehensive enforcement effort on traffic management."
Mr. Ayorinde said the article ignored the bigger picture of an emerging "reform policy, designed to address the larger concerns in the management of security, traffic and the environment".
"If we were to conclude hastily, like the article did, we would have described the magazine's effort in the same words it once famously used as 'an unpleasant nose-to-stranger's-armpit experience'."
Mr. Ayorinde further explained that "it was inaccurate and preposterous for the article to suggest that Governor Ambode cut the powers of traffic controllers by banning them from impounding cars which it concluded that it had made officers reluctant to enforce the rules.
"What the Governor did instead was to enjoin the officers to look at other options to apprehend traffic offenders by adopting the ticketing system backed by the same type of technology used in licensing and tracking vehicles instead of impounding the vehicles as first option.
"That The Economist sees nothing wrong in recalcitrant officers refusing to carry out a directive by their employer is as surprising as it is shameful. Shockingly still, the veil finally came off this curious article when it states that by choosing a compassionate approach to enforcement, Governor Ambode is less competent and has deviated from his predecessor's template.
"But what legacy has The Economist bequeathed to former Governor Babatunde Fashola? 'Cars were terrified into order by a state traffic agency, LASTMA, whose bribe-hungry officers flagged down offending drivers'
.
"This is clearly an uncharitable summation of traffic management under the last administration. It is disrespectful, even more condescending to the officers of LASTMA and to Lagosians in general for whom the magazine purports to be fighting. In any case, if indeed some officers were corrupt in LASTMA, by The Economist's damning verdict, should Governor Ambode continue to maintain such a tainted template? Is this the magazine's idea of the end justifies the means or it is negligible because this is Africa?
"Perhaps, it is high time that this vaunted magazine learnt to restrict itself to strict journalism rather than seeking to impose jaded views in a volatile political climate where, we dare say, the gluttonous lot can choke on their own bile, almost hoping that the elections leading to the emergence of the governor could be held over again."
Mr. Ayorinde said in the last five months Mr. Ambode "has shown his capacity to improve on the fortunes of the state and has mapped out workable strategies in the area of security, transportation and economic sustainability in the face of harsh national economic realities."