Benue Governor Ortom Wants Suswam To Refund "Stolen" Cash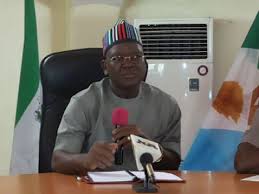 Governor Samuel Ortom of Benue State is asking former governor, Gabriel Suswam to make certain cash refunds of missing monies to the state government's coffers.
Mr Ortom's request followed a High Court ruling on Monday dismissing the suit filed by former governor ,Gabriel Suswam, challenging the decision of the Benue State Government to probe him.
Governor Ortom listed receipts from the sale of government shares at the Dangote Cement Company and that of Julius Berger which were not reflected in the state's income and expenditure records.
Mr Suswam had at a thanksgiving service held in his honour on Sunday, denied allegation of corruption against him, saying it is a politically motivated effort to demonise his time in office as the Governor of the state.
The embattled former Governor also spoke on his preparedness to answer to the corruption charges brought against him by the Economic and Financial Crimes Commission, but regretted the misleading information carried by the media about his purported arraignment.
"It is for the people of Benue state to judge. It is not for us to play politics with it. There were lots of milestone that we achieved in the last eight years under my leadership. I believe that the people know it.
"What the political elite in the opposition are trying to do does not reflect what is on ground. But if you go across the entire state, my footprints are all there. It is not something that is in doubt by anybody.\