Late Sani Abacha's Family & Muhammadu Buhari's Aisha Together At Aso Rock Villa [Photos]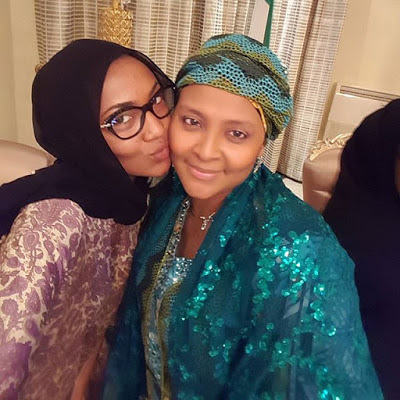 Gumsu Abacha, the daughter of former military Head of State, General Sani Abacha's daughter, visited the presidential villa on Wednesday, November 4.
Gumsu, who was accompanied to the villa by her daughters, visited the first lady, Aisha Buhari and her daughters.
During Abacha's regime, he and his family reportedly stole a total of £5 billion from the country's coffers. In 2004, Abacha was listed as the fourth most corrupt leader in history.
Interestingly, during a service marking the 10th year anniversary of the death of the dictator, several former Nigerian heads of state, including current President Gen. M Buhari(rtd.), refuted claims that Abacha looted the country, claiming such accusations are "baseless".
Photo Credit: Ynaija.com