"I Don't Care Who Is Hurt By The Truth" – Dogara Claps Back At Critics Against His Revelation On Fayose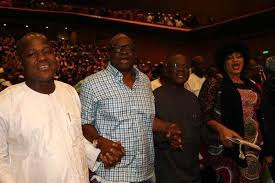 The Speaker of the House of Representatives, Rt. Hon. Yakubu Dogara, claps back at those who are upset by his revelation that the Ekiti State Governor, Mr Ayodele Fayose, prayed for him to become the speaker .
Hon. Dogara had during "A Day with Jesus for Nigeria in Israel," held in Jerusalem last Sunday, narrated how Governor Fayose prayed and prophesised to him that he would become the Speaker of the House of Representatives.
The Speaker, who on his Twitter page on Tuesday was reacting to some critics who alleged that the governor might have been part of those who financed him for that position, fired back saying, "I don't care who is hurt by this revelation. Fayose did not give me anything. He only prayed. Like him or hate him, God can use anybody. God is the giver.
"He prayed before witnesses. I won't ? lie. I was rudely shocked because I never expected him to pray for me.
"The truth is that so many people prayed for me and I prayed also. I am thankful to all who stood by me in prayers.
"I don't care who is hurt by the truth. All I got when I visited Governor Fayose was prayer and nothing else."