Inconsolable Former President Jonathan Says He Remains Indebted To Late Alamieyeseigha.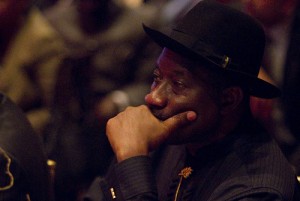 Estimated Reading Time: <1
Former President Goodluck Jonathan fought back tears on Friday as he visited the home of the late erstwhile governor of Bayelsa State, Diepreye Alamieyeseigha.
Jonathan paid a condolence visit to the Opolo, Yenagoa residence of the man who was once referred to by his admirers as the "Governor General", accompanied by Governor of Bayelsa state, Mr. Seriake Dickson, his deputy, John Jonah, Secretary to the State Government (SSG), Edmund Allison-Oguru, other officials of government and elder statesmen.
Alamieyeseigha's widow, Margaret, broke down in tears and wept uncontrollably as her eyes met Jonathan's.
Nigeria's former president recounted his journey to the number one job in the land and said without Alamieyeseigha, no one would have known who he was beyond his home state.
Jonathan said his relationship with Alamieyeseigha was not that of a governor and a deputy governor but that of an elder brother and a younger brother.
He said: "It is sad. I directly worked as a deputy governor to Alamieyeseigha. I knew Alamieyeseigha during the UNCP days when we were working for him.
"I never knew I was going to be his deputy because that was not my interest then. From that time, the political evolution in the country and the state brought me to work with him.
"And from 1999, we have been together. He always took me as his younger brother. Our relationship was not that of a governor and a deputy but it was that of a younger brother and an elder brother."