Plot To Stop Amaechi Hits The Senate As Rivers Senators Summit 88-Page Petition Bordering On Corruption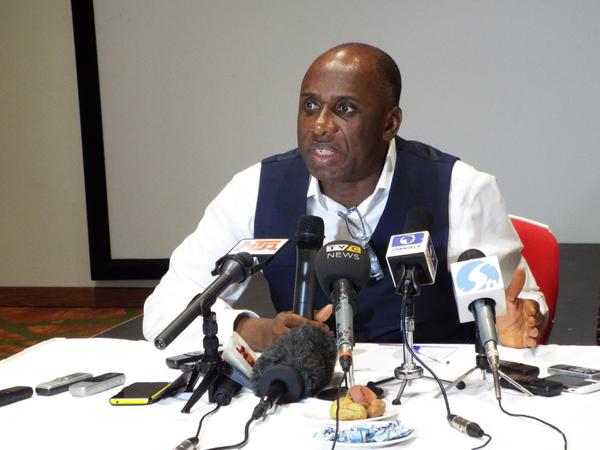 Former Rivers State Governor Chibuike Rotimi Amaechi was parrying yesterday an attempt to stop his confirmation for minister.
Amaechi, who was also Director General, Buhari Campaign Organisation, was one of the 21 ministerial nominees unveiled on Wednesday by Senate President Bukola Saraki, Nation Newspaper reports.
Three senators from Rivers State – George Thompson Sekibo (Rivers East), Olaka Nwogu (Rivers South-East) and Osinakachukwu Ideazu (Rivers West) – submitted an 88-page petition to the Senate against the nomination and confirmation of Amaechi as minister.
The petition, written by a Non-Governmental Organisation, "The Integrity Group", based in Port Harcourt, the Rivers State capital, was submitted to the Senate by Sekibo on behalf of the other senators.
Entitled, "Petition against ministerial nominee: Chibuike Rotimi Amaechi: Demand to withdraw and reject his nomination and appointment on the ground of corruption, criminal breach of trust, unlawful enrichment and conversion of over N70 billion Rivers peoples' monies by the former governor of Rivers State, Sekibo said it was endorsed one Livingstone Wechie on behalf of the group and thousands of others.
The submission of the petition provoked a spontaneous protest in the chamber mostly by All Progressives Congress (APC) senators who kicked against it.
Although the shout of "No way, No way, impossible" rented the Senate chamber, Sekibo was undeterred until he concluded reading the synopsis of the petition as required by the Senate's standing rule.
Sekibo informed the Senate that the petition bordered principally on corruption and criminal breach of trust levied against Amaechi.
When the protest against the petition subsided, Senate President Bukola Saraki referred the controversial document to the Senate Committee on Ethics and Privileges for consideration.
Sekibo's seat was instantly crowded by some senators. Others followed him to his office apparently to pick a copy of the petition.
Sekibo later threw more light on the petition when he spoke with reporters.
He said: "There is this group that is called 'The Integrity Group'; they believe in transparency, fighting against corruption; they believe in good governance and effective utilisation of every fund that is allocated to any state government.
"They are based in Port Harcourt. They went into a research and discovered that over N70billion was transferred from hard currency account to places outside the country.
"A petition on this note was written to Mr. President. I believe the President has not read it. If he has read it, he may not have hurriedly nominated Rotimi Amaechi to be a minister.
"Amaechi is qualified to be a minister but when issues of corruption and fraud are openly x-rayed by people, it is necessary for Mr. President to take a critical look and examine the allegations from these people, whether they are true or not.
"Mr. President is preaching against corruption; we applaud him for the corruption fight he is waging against whoever.
"So, if you are fighting against corruption, then there must not be any sacred cow. No matter how close a person is to you, if there are allegations about him, you must spend time to critically look at them, whether there are truth about the allegations that have been so submitted.
"I am informed that this petition was forwarded to the Economic and Financial Crimes Commission (EFCC) a month or two ago and I am also informed that the EFCC is also commencing to carry out investigation.
"So, why not allow this period to go over and allow them to do their investigation and come out with the result?
"It may be mere allegation but assuming they are true, as a serving minister with a very big portfolio and EFCC is investigating you, can they get the result of what they are looking for?
"They will not get it. We are not stopping Mr. President from appointing a Rivers man to be a minister; we will welcome it. There are many APC members who were not indicted or accused of such similar issues.
"So, we have not seen the haste in pushing Amaechi to be a minister of the Federal Republic of Nigeria.
"On the other hand, the Rivers State Government set up a judicial panel of inquiry to investigate the sale of state government-owned property."