Keyamo Is A Sycophant Who Sees Insulting Ndigbo As The Fastest Way To Get Buhari's Attention Says Ohanaeze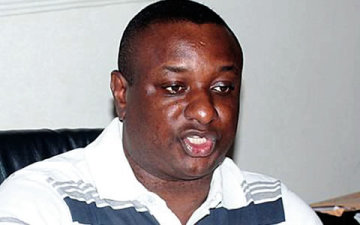 The youth wing of the pan-Igbo socio-cultural organisation, Ohanaeze Ndigbo, has demanded an unconditional apology from human rights lawyer, Festus Keyamo, for dismissing the outrage by Ndigbo over their exclusion in federal appointments as "mere noise."
Keyamo, had while defending President Muhammadu Buhari against the allegations of deliberate exclusion of the South-East in his political appointments so far, said those criticising the President "are political job seekers."
The lawyer said the Ndigbo were the greatest beneficiaries of Buhari's appointments so far, and had no justification to allege marginalisation.
His words: "We, the elite, should not be moved by this noise and selfish agenda. Imagine a whole ethnic group campaigning for a position! Initially, they said Chief of Staff, then Secretary to the Government of the Federation.
"Now, with all the noise they have been making since May 29, imagine if one person from that region is appointed to that position. That person will then see himself as a champion of his ethnic group and his kinsmen will descend on that office in the area of contracts and gifts."
The group described Keyamo as "a desperate political sycophant who sees insulting the Ndigbo as the fastest way to get the attention of Buhari for consideration for a political appointment."
A statement by the National President of the Ohanaeze Youth Congress, Okechukwu Isiguzoro, said Keyamo only resorted to attacking the Ndigbo for cheap public notice.
The statement issued on Monday in Umuahia, Abia State, regretted that "the likes of Keyamo will shamelessly deny obvious truths for selfish interest and political patronage."
The statement read in part, "Ordinarily, we would not like to take issues with the likes of Keyamo as doing so will dignify him but we only want to warn him against the dangers of fighting a whole tribe.
"It is a pity that a lawyer like Keyamo, who should know better, has decided to see nothing wrong with the deliberate exclusion of a whole geopolitical zone from the over 30 key political appointments so far made by Buhari since he came on board."
The OYC warned Keyamo to tread with caution over his remarks on issues affecting the Igbo nation.